Chase Hunter's reporting on environmental health inequity was funded for the Index-Tribune by a USC Annenberg Center for Health Journalism 2023 California Health Equity Impact Fund Grant. This is the first in a three-part series.
The Carreño family walked through what once was their neighborhood in Coffey Park. Following the devastation of the Tubbs fire, the street felt like a fleeting memory — a time before their home was turned to ash.
Daysi looked under a bush on their old property for a stone that served as a roundtable for chismes — gossip — about the neighborhood, shared on warm summer nights when the cherry trees were ripe and her children could pluck them off the branch. Bent down, Daysi craned her head to her husband Carlos, and their daughters, Ashley, Dayren and Mili.
"It's still here," Daysi said.
Over the past five years, smoke days, wildfires and displacement have become a seasonal feature in Sonoma County, widening the deep-seeded inequities between wealth and race in California's Wine Country. For undocumented and Spanish-speaking residents like Daysi Carreño, the destructive wildfires of recent years have wrought their scars; burned into their memories and baked into their bodies, pushing some families to the edge.
"I feel its effects in my lungs like there's a pain there," Daysi said about the smoke she inhaled in the Tubbs fire and the blazes that followed. "My throat still feels dry, and not just me, my whole family… We didn't know what was happening. And we didn't know how big this disaster really was."
But the edge pushed back against Daysi, compelling her to organize and advocate for changes that could have given her family and her community more time to evacuate and salvage their possessions from the flames. She joined the Immigrant Defense Task Force in Sonoma County five years ago and continues to work for language equality in emergency response today.
"I've seen how much need there is outside of our group," Daysi said. "There are many people like me."
A current of underclass workers — beginning with the enslavement of Native Americans, to the Chinese laborers who built railways and wine caves, to the emigrant workforce of Okies, and continuing to this day through Latinos and immigrants — have built the backbone of Sonoma County's affluent industries of wine, hospitality and restaurants. But an array of climate-induced natural disasters have exacerbated the housing crisis while highlighting respiratory and cardiac health disparities, worsening the structural inequalities that have long plagued Sonoma County.
Burned out
Record rainfall the previous winter created an abundance of new vegetation growth across California in 2017, sparking a rare Southern California wildflower "superbloom" that could be seen from space. But record heat over summer left fields of dry grass all across the state ripe for fire.
At 9:43 p.m. on Sunday, Oct. 8, 2017, a substandard PG&E electrical system on a hilltop property along Bennett Lane in Calistoga — about 15 miles from the Carreños home in Coffey Park — sparked one of the most devastating fires in California's history. Fueled by 40 mph wind gusts, the fire spread 12 miles in its initial three hours.
Sonoma County officials could have sent an emergency alert to every cellphone in the region that night, but chose not to, saying such a widespread alarm would have hampered emergency efforts.
Daysi learned of the fires from three sources: the window of her home, texts and calls from friends and the local TV news station that her daughter, Dayren, translated into Spanish.
"I saw how difficult it was for her to translate a situation like that. She's saying, 'It's getting stronger! It's getting stronger!'" Daysi remembered. "The thing they did say about what was happening was how the air was so bad that was entering the house."
In part due to climate change and poor forest management over the past century, the risk of wildfires has grown worse in Sonoma County, especially along its northeastern edges near the cities of Sonoma, Santa Rosa and Geyserville. According to CalFire, the state's fire fighting agency, 30% of Sonoma County's 1.1 million acres are considered "high-risk" for wildfires.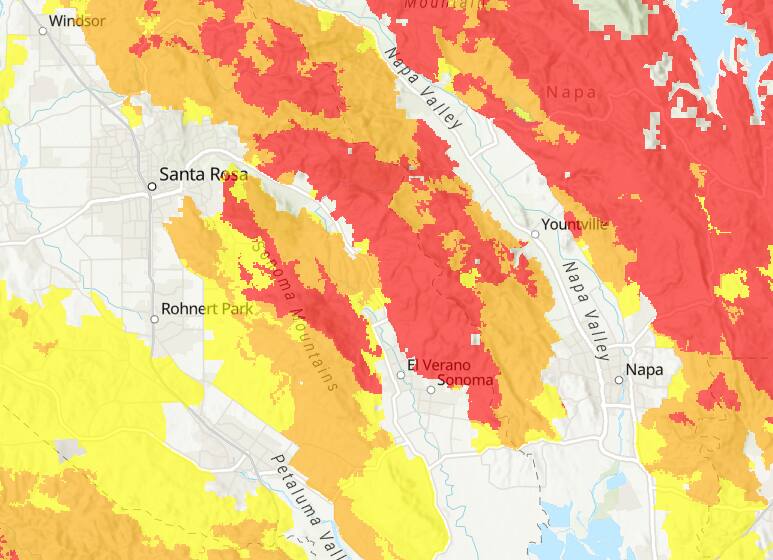 Wildfires release smoke filled with particulate matter from dead trees and burned structures, which at times has made Sonoma County one of the worst places in the world for air quality.