Commentary: On cannabis, competition equals compassion
The business of cannabis continues to be an issue in Sonoma. It shouldn't be. After nearly five years of hard work by patients, advocates and the City Council, Sonoma now has an ordinance that permits two dispensary storefronts. However, in keeping with the issue's history of being kicked down a rocky road, the process for permitting a second dispensary appears to be stalled by a mix of incredulity and less informed experiences of some local officials.
A certain amount of skepticism among city electeds and the community at large is understandable. However, we remind readers that Proposition 64 was supported by 62% of Sonoma voters, more than any of the other county's cities, or the county itself.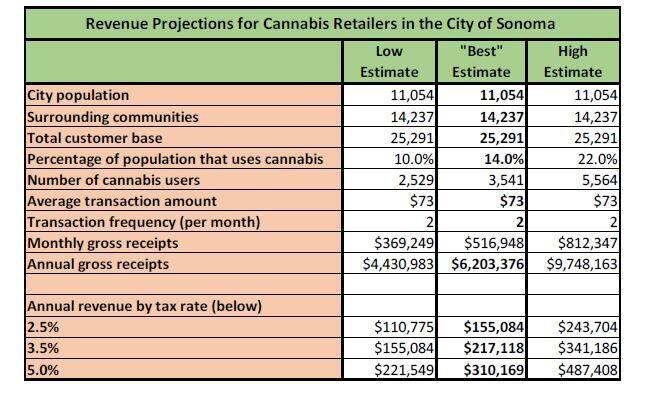 There are several reasons why an additional dispensary contributes to the city and the health, safety, and welfare of its citizens.
Dispensaries create tax revenue. The city's consultant, HdL, estimated that between $250,000 and $500,000 could be generated for Sonoma. Aside from tax revenue, it also noted that for every $1 spent at a cannabis retailer, an additional $3 in economic benefit goes to the host city or county. The city should see a comparable economic gain from cannabis.
Dispensaries create jobs. Not only do they provide good-paying, safe, family- and community-sustaining employment, they support ancillary businesses that don't touch the product, like bookkeepers, tax preparers, personnel services, facilities maintenance and more. The jobs in cannabis are also year-round, not seasonal like those in hospitality. It is better for the economy of Sonoma to have another dispensary, than another restaurant, tasting room, or hotel.
Dispensaries provide other community benefits. For example, the City could form a dedicated foundation to provide cash grants to local nonprofits or be directed toward the city's most needy residents and projects. It could provide support for local food pantries, or help fund SOS's shelter services for the homeless, or improve wildfire protection/emergency services. A second dispensary can even benefit the air we breathe by requiring fewer miles traveled beyond city limits.
Competition improves our standard of living. It keeps prices low and raises the quality and choice of goods and services. What if there was only one pharmacy in our community? What if there was only one supplier from whom we could buy fresh coffee? What if there was only one tax preparer in town?
Competition in the cannabis space doesn't exist in Sonoma and the Valley. One future competitor, the troubled Glen Ellen dispensary, may be significantly delayed or stopped, pending a lawsuit brought by the local neighborhood.
In the meantime, without competition, any provider operating locally will be able to set higher prices without fear, because their closest competitors are in Cotati and Santa Rosa. That would be especially unfair to medical patients. The battles faced daily by those who depend on cannabis to manage their medical issues shouldn't be minimized. Forcing those most in need of relief to travel many miles or pay extra delivery fees for products that may not be available from a single provider creates economic hardship within two of our most important communities, our seniors and veterans.
Product availability is a real issue. Patients with chronic or life-threatening illnesses need access to the widest choice of products possible to meet their medical concerns. Unfortunately, inventories at dispensaries can range widely from shop to shop. They don't all carry the same products or brands, and their availability can even differ from one visit to the next.
Limiting choice is not what compassionate care is about. Competition and compassion for patients and consumers go hand in hand.
Past and present city council members have voted to permit an additional walk-in dispensary. That is the legacy of nearly five years of hard work by patients, consumers, advocates, and the city. This has been the democratic process in action and it should be honored. We encourage the city council to fulfill that commitment and move the dispensary process forward with no unnecessary delay.
The Sonoma City Council is potentially going to address this issue at its Nov. 17 meeting at 6 p.m. We invite everyone to view and participate or send an email in support to citycouncil@sonomacity.org.
Gil Latimer is the founder of the Sonoma Valley Cannabis Group and a longtime advocate for medicinal cannabis. Visit sonomavalleycannabisgroup.com.