Sonoma pets at low risk for coronavirus
Snuggling up with Fido or Fluffy can be a comfort especially during these coronavirus-ridden days, and though there is limited information available from experts on the transference of coronavirus between dogs and cats and their humans, there seems to be little concern from experts or local pet owners, vet offices said.
"We've had one or two questions about it," said Kathy Gatenby, office manager of Sonoma Veterinary Clinic on Broadway. But they have not administered any tests, nor has anyone asked for their dog or cat to be tested, she said.
Sonoma Animal Hospital sent out information to its clients about coronavirus and pets; the Arnold Drive clinic has been very busy but haven't seen any cases.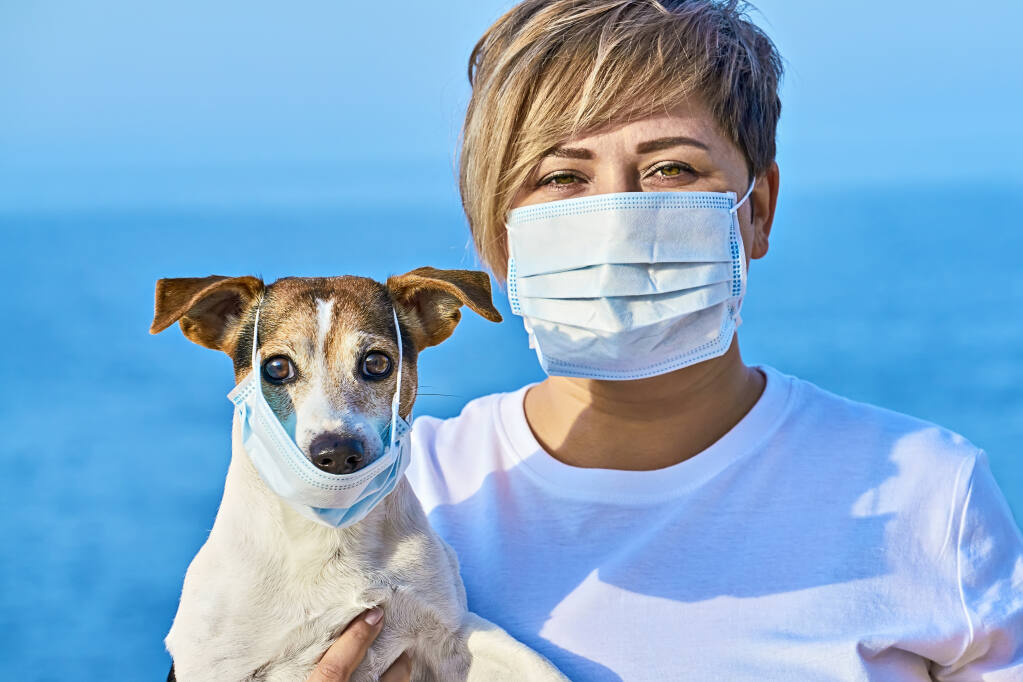 The Centers for Disease Control reports that there have been a "small number of pets worldwide" who have become infected from COVID-19 transmission from a human to a cat or dog, but the risk is considered low for pets to contract the virus through humans and the agency does not believe pets cause the spread of the disease.
Two pet cats in New York tested positive for the virus in mid-April about the same time the first dog known also tested positive after showing signs of breathing difficulty. The dog died six weeks later, and the CDC reported then that the cats were expected to make full recovery. A dog in North Carolina that was showing signs of respiratory ailment was taken to the North Carolina State Veterinary Hospital on Aug. 3, tested positive of COVID-19 and died on Aug. 12, according to news reports.
In a couple of the cases there was a human infected with coronavirus, but that was not the situation for all cases, according to reports.
The United States Department of Agriculture's National Veterinary Services Laboratories reported in May that one tiger at a zoo in New York tested positive for SARS-CoV-2, which is the virus that causes COVID-19 in humans, and other tigers and lions there showed symptoms of respiratory illness. Though COVID-19 is traced to a bat, there is no evidence that animals can transmit the virus to humans, according to the CDC.
The low risk seems to be keeping those in Sonoma Valley at ease. In addition to Sonoma Veterinary Clinic, both Sonoma Animal Hospital and Arroyo Veterinary Hospital said they haven't been asked to check any pets for coronavirus.
Arroyo had a human-related coronavirus scare and closed its doors for two weeks after reporting that someone at the clinic came in contact with another human infected with the virus. The veterinary office declined to comment.
The CDC recommends that humans not snuggle with pets if you are feeling ill and take the same precautions – wearing a mask and washing hands – as you would with humans.
However, studies show that pets can lower stress in their human companions and during the social distancing era, people need that interaction.
A UCLA study showed that patients visited by a therapy dog showed a reduction in stress hormones and people reported feeling less anxious.
An article published in 2015 in the journal Anthrozoos found that interaction between dogs and humans raised the levels of oxytocin -- a neuropeptide, which are small protein-like molecules that influence the activity of the brain – which is released during childbirth and lactation, as well as social interaction and plays a role in social bonding, something that is difficult to develop during social distancing.
The Anxiety and Depression Association of America said oxytocin can change physiological variables, too, in both humans and animals. And the Human Animal Bond Research Institute reports that pets alleviate stress, depression, loneliness and social isolation, improve physical fitness and encourage activity, and help facilitate healing and resiliency.
Contact Anne at anne.ernst@sonomanews.com.