UPDATED: Sonoma parents rejoice! Summer camps are back
At its peak in 2019, Sonoma Valley boasted almost 100 different weeks of camp programming.
In 2021, about half as many options exist and many have space restrictions because of COVID social distancing requirements. But there are a variety of options and families can choose between half- and full-day camps ranging from backpacking to animal care to dozens of art-themed programs.
Check camp websites to confirm dates and fees as additional options are being added daily. Most offer scholarships or need-based discounts; just ask.
ANIMALS
PETS LIFELINE HUMANE EDUCATION: Pets Lifeline will offer Safari Camp for ages 7-11 on June 7 to 10, June 28 to July 1, July 19 to 22 and July 26 to 29; Crazy for Cats Camp for ages 7-11 on June 14 to 17 and Aug. 9 to 12; Pet Pals for Little Paws for ages 5-8 on June 21 to 24, July 5 to 8 and Aug. 2 to 5; and Kitten School for ages 7-11 on July 12 to 15. 19686 E. Eighth St. petslifeline.org.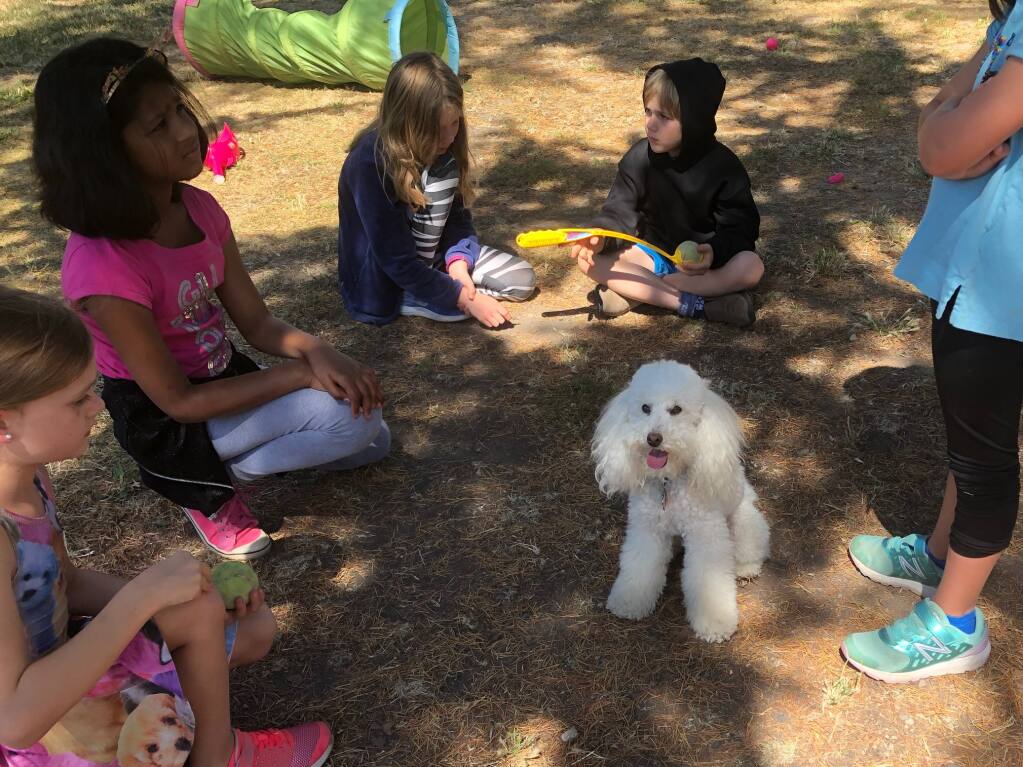 ART, MUSIC, DANCE, THEATER
ART ESCAPE: Art Escape is still working on the details but the nonprofit art studio expects to offer camps in the last week of June and throughout July. Among the options will likely be a Glass Camp for teens, and possibly a small Bilingual Camp for K - first grade. The center is also offering a two-week collaboration with the Sonoma Ecology Center. artescapesonoma.com
RHOTEN PRODUCTIONS PERFORMING ARTS: The details are still in flux but the Rhotens expect to offer their performing arts camp from July 12 to 23. Email diana@rhotenproductions.com and/or call 484-7759 for details. rhotenproductions.com.
SONOMA CHILDREN'S CREATIVE & PERFORMING ARTS: A variety of full-day (9 a.m. to 2 p.m.) camps are being offered for ages 6-15. Dance Camp is for ages 6-8 and 9-15 and runs June 21 to 24. Cartooning Camp is for ages 6-8 and 9-15 and runs June 28 to July 1. Science and Discovery Camp is for ages 6-12 and runs July 12 to 15. Princess Camp is for ages 4-7 and runs July 19 to 22. Musical Theater Camp is for ages 6-8 and 9-15 and runs July 26 to 29; Dance Camp for ages 6-12 and runs Aug. 2 to 5; Camp Entrepreneur for ages 6-8 and 9-15 is Aug. 9 to 12. All camps are limited to 15 kids. createperformsonoma.com.
SONOMA COMMUNITY CENTER: Art focused one- and two-week programs for ages 6-18 will be hosted entirely outdoors over the course of June and July. Options include Self Expression Camp, Clay and Art Camp, Fiber Camp and Upcycle Design Camp. sonomacommunitycenter.org/summer-camps/.
SONOMA CONSERVATORY OF DANCE: Sessions for ages 9 and up will be held July 26 to Aug. 13. sonomaconservatoryofdance.org
VIVO YOUTH ORCHESTRA: ViVo is offering three sessions of Camp Cultura in August for grade 2 and up. Students will be learning to play ukulele, violin, viola, cello, trumpet, clarinet and flute in preparation for playing in the orchestra in the fall. No experience is necessary, open to all students in Sonoma Valley. Instruments are provided at no cost and full scholarships are available. Sign-up and information at vivosonoma.org.
GENERAL
YMCA AT PRESTWOOD: The Sonoma County YMCA will offer full day one-week camps for ages 6-12 from June 7 through Aug. 13. Register online at scfymca.org.
BOYS & GIRLS CLUBS-SPECIALTY CAMPS: The Boys & Girls Club has limited capacity in 2021 and club officials have announced that their approximately 150 summer camp slots will be pre-allocated to the students already enrolled in their distance-learning pods. 100 W. Verano Ave. bgcsonoma.org.
OUTDOORS/SPORTS
RHOTEN PRODUCTIONS NATURE CAMP: Ages 5-12. Four one-week nature camps for ages 5-13 starting on June 7 on Grove Street and three one-week Challenge Sonoma ropes course camps for ages 9 and up starting on June 14 in Eldridge. Both are 9 a.m. to 4 p.m., Monday through Friday. Carriger Creek Challenge Course is on Grove Street and at Challenge Sonoma Adventure Ropes Course is in Eldridge. rhotenproductions.com
MARTIAL ARTS: The Sonoma School of Martial Arts is offering spring and summer camps inside Yoga Community on Fifth St. W. The cohort right now is 14 kids with two instructors. They teach Taekwondo, Hapkido, Kumdo and self defense, with offerings for ages 4 to 12. Sign up at hrknapa.com or email robertjmorey@gmail.com.
SONOMA ECOLOGY CENTER CAMPS: Ages 5-12. 9 a.m. to 1:30 p.m. or 3 p.m. running June 8 to July 16. Camps in 2021 include a Garden Gnomes Camp and a Garden Wizards Camp, a Serpentine Stone Camp, Obsidian Owl Camp, a Phoenix Crystal Camp and Creek Camps at Sugarloaf. Sugarloaf Ridge State Park, 2605 Adobe Canyon Road, Kenwood or 19996 E. Seventh St. sonomaecologycenter.org.
VILDA NATURE CAMP: Vilda Summer Nature Pods will be available in Sonoma Valley this summer, two days a week, from 9:30 a.m. to 3:30 p.m. for ages 6 to 9. Naturalist teachers are paired with small groups of kids locally to create small pods of outdoor learning and fun. The program starts June 16 and is open for applications now. Scholarships are available. vildanature.org/nature-pods.
CHALLENGER SPORTS/SONOMA SOCCER CLUB CAMP: Age-grouped soccer camps will be offered July 5 to 9. A Tiny Tykes Camp for ages 3-5 from 8 to 9 a.m. A half-day camp for ages 6-14 is 9 a.m. to noon. Field of Dreams, 175 First St. W. challengersports.com.
O'SULLIVAN SOCCER ACADEMY: A one-week camp is being offered August 2 to 5 at Adele Harrison Middle School for ages 5-14. Full and half day options. Visit osullivansocceracademy.com for details.
SONOMA AQUATIC CLUB WATER POLO: Check the website at sonomaaquaticclub.com for details. 17350 Vailetti Drive.
SONOMA GYMNASTICS ACADEMY: Ten weeks of camp, each with a different theme. Ages 4-12. Full and half day options. 1620 Carneros Meadows Lane. sonomagymnasticsacademy.com/events/camps/.
TENNIS: Summer tennis camps of small groups are available at Maxwell Park running June 7 through Aug. 12. All ages and levels welcome. Sign up by the week. Text coach Felipe Monroy at 916-879-0212.
SCHOOLS
PRESENTATION SCHOOL: Presentation School will be offering weekly summer camps on campus open to all elementary students between June 28 and July 23. More details to come. Visit presentationschool.com.
CRESCENT MONTESSORI PRESCHOOL: Five-day camps for ages 2-6. Camps throughout July from 8:30 a.m. to 12:30 p.m. 276 E. Napa St. crescentmontessori.com/programs/summer-camp.
CHURCHES
ST. ANDREW CHURCH: The church will offer a faith-based Vacation Bible School summer camp June 21 to 26, from 9 a.m. to noon daily. andrewpres.org.
Did we miss a local option? Email lorna.sheridan@sonomanews.com to be added to the list.