Sonoma native Ada Limón appointed to unprecedented 2-year second term as US Poet Laureate
"Ada (Limón) has been a stellar ambassador for the Library of Congress and an agent of grace and brilliance in continuing to broaden the reach of poetry to new audiences," said Librarian of Congress Carla Hayden after announcing that she has appointed the Sonoma native to an unprecedented two-year second term.
|
Sonoma Valley native Ada Limón will be serving an unprecedented two-year second term as the nation's 24th Poet Laureate Consultant in Poetry, sparked by the success she achieved in her first term.
"Ada has been a stellar ambassador for the Library of Congress and an agent of grace and brilliance in continuing to broaden the reach of poetry to new audiences," said Librarian of Congress Carla Hayden. "Her dazzling talent is allowing us to take the laureateship on groundbreaking new projects by collaborating with diverse communities and institutions.
"Ada's passion can be read in her words, and we are eager to see the magic she will spark the next two years."
Several previous poets laureate have served one-year second terms, but none have been appointed to two-year for a second term. Still in the midst of her first term, Limón's new term runs from September 2023 through April 2025.
"I've loved serving in this role and I know there is so much more we can accomplish," Limón told the Index-Tribune. "Dr. Hayden is such an inspiration, and her confidence in me is truly moving."
Poets laureate seek to raise the national consciousness to better appreciate the reading and writing of poetry. Specific duties are kept to a minimum so they have sufficient time to focus on their own projects, but in recent years, poets laureate have initiated projects that have broadened the audiences for poetry. For their term, they receive a $35,000 stipend and $5,000 for travel expenses.
The announcement of Limón's new appointment coincides with her upcoming appearance at the Sonoma Valley Authors Festival, which will run from Friday, April 28 to April 30 at Fairmont Sonoma Mission Inn & Spa in Sonoma. Limón and Jeffrey Brown, senior correspondent and chief arts correspondent for "PBS NewsHour," are scheduled to deliver a keynote session on Saturday afternoon from 3:30 to 4:15 p.m.
Limón will also be featured in the festival's free Authors on the Plaza event on Saturday from 11 a.m. to 2 p.m., alongside Abraham Verghese and Dave Barry.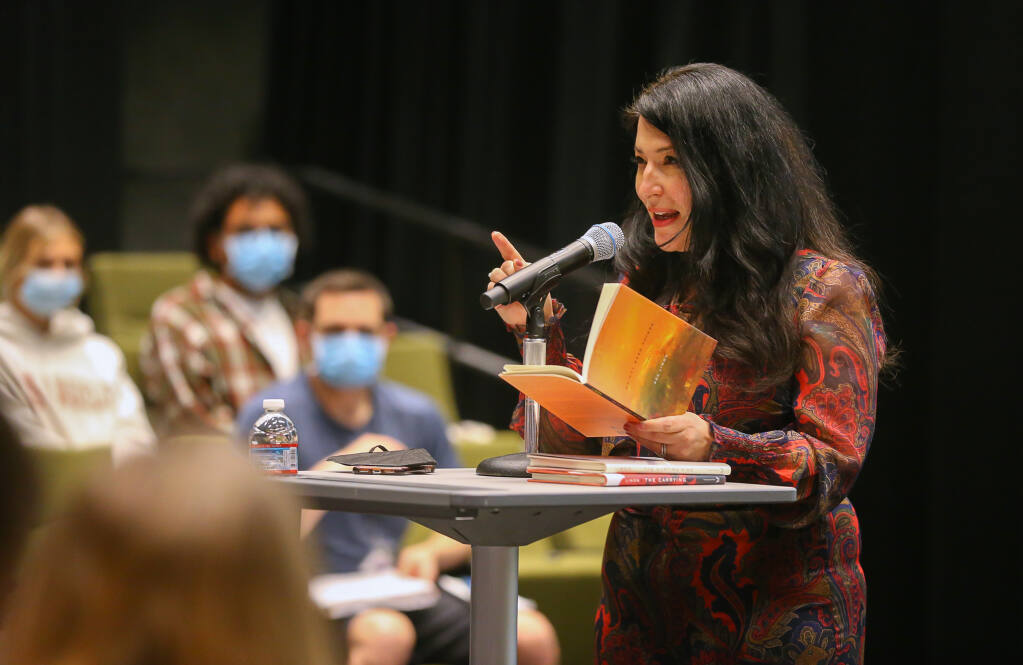 Promoting poetry throughout the world
Her appearances are part of a busy schedule that has taken her to more than 24 national and international cities as the U.S. Poet Laureate.
"I spoke around the country about the importance of poetry," Limón said. "Everywhere I go, I see huge crowds coming out to listen to poetry. Poetry feels very alive right now and people are hungry for the connection poetry can offer. It's inspiration, really."
She hosted an event at the White House with Jill Biden, the first lady of the United States, for the National Student Poets program. Limón also participated in a student outreach event at Planet Word museum in Washington, D.C., that honored Brigitte Macron, the wife of Emmanuel Macron, president of France.
One of Limón's poems was translated into French for the special occasion, where she and poet Maya Salameh read their work and touted the power of poetry. Later that evening, Limón and her husband, Lucas Marquardt, attended the state dinner at the White House.
In January, Limón on flew to Mexico City, where she participated in Fandango — a celebration of the arts, poetry, music and dance — hosted by Beatriz Gutierrez Muller, wife of Andres Manuel Lopez Obrador, president of Mexico. In Buenos Aires, she took part in a conversation with Argentine poets Lara Wittner and Daniela Auginsky for the Library of Congress' Palabra Archive, historically known as the Archive of Hispanic Literature on Tape.
Signature project as poet laureate
In August, Limón will appear at the Library of Congress National Book Festival in Washington, D.C. At the beginning of her second term, the Library will announce laureate initiatives with several federal and nonfederal partners, as well as details of her signature project — a first-ever partnership with the National Park Service and the Poetry Society of America to present poems in select national parks across the country.
"Ada will continue in the tradition of previous poets laureate, who have focused on signature projects and other major laureate initiatives during their second terms," Hayden said.
Limón added, "I would love to say more (about the project), but I can't until it launches in the fall. But it's coming together and I am very excited."
One of Limón's other projects even extends beyond the planet. She was asked by the National Aeronautics and Space Administration (NASA) to write an original poem for the Europa Clipper, a spacecraft that is scheduled to begin a 1.8 billon-mile journey to Jupiter's second moon in October. Limón's poem will be released on June 1 and will be engraved on the spacecraft, which is slated to orbit Jupiter by 2030.