Sonoma grape growers prepare for harsh year of drought
Striding through the rows of grapevines in Sonoma's Moon Mountain Vineyard, Erich Bradley waves an arm at the burnt-brown grass and chaparral surrounding his vineyard.
"The flora and fauna that surround the vineyard are so dry, it looks like the second week of July instead of the second week of May," the winemaker says.
The parched landscape is no surprise, given the drought emergency in the Valley and many parts of the state. This is Sonoma's driest Oct. 1 to May 7 period since 1980, according to the Western Regional Climate Center, with only 16.4 inches of precipitation. The median amount is 42.2 inches.
Bradley and others in the wine industry seem relatively unfazed, saying it's mostly a matter of knowing how to manage properly through the drought. The real threat, they say, is continuous years of drought, which can affect vine health, yields and profitability for growers.
This year, growers plan on using a variety of water-conserving tactics to handle the challenge. Buying water is expensive and usually not economically feasible, growers said. Instead, removing unwanted new growth, thinning the grapes and postponing planting new vines are some approaches growers in the Valley and the county might use to conserve water.
"The biggest thing I'm thinking about right now is putting off planting new vines in the vineyard," Bradley said. For many, new plantings will be put on hold to save the water for the existing vines.
Another tactic is sometimes described as "shoot selection." A "shoot" is new growth, a young branch just emerging from the main stock of a plant.
"Where you have more shoots than you need or want, you can just pinch them off with your finger," Bradley said.
This conserves the amount of water needed by the plant, since the young shoots would normally draw water.
Thinning the grapes is another approach, said Steve Sangiacomo, partner and co-manager of Sangiacomo Family Vineyards in Sonoma.
"If there is too much fruit on the vine, it increases the stress level, so we're going to have to pay attention to exactly how much yield our vines can handle," Sangiacomo said. The solution would be to discard the excess grapes so they don't use up precious water.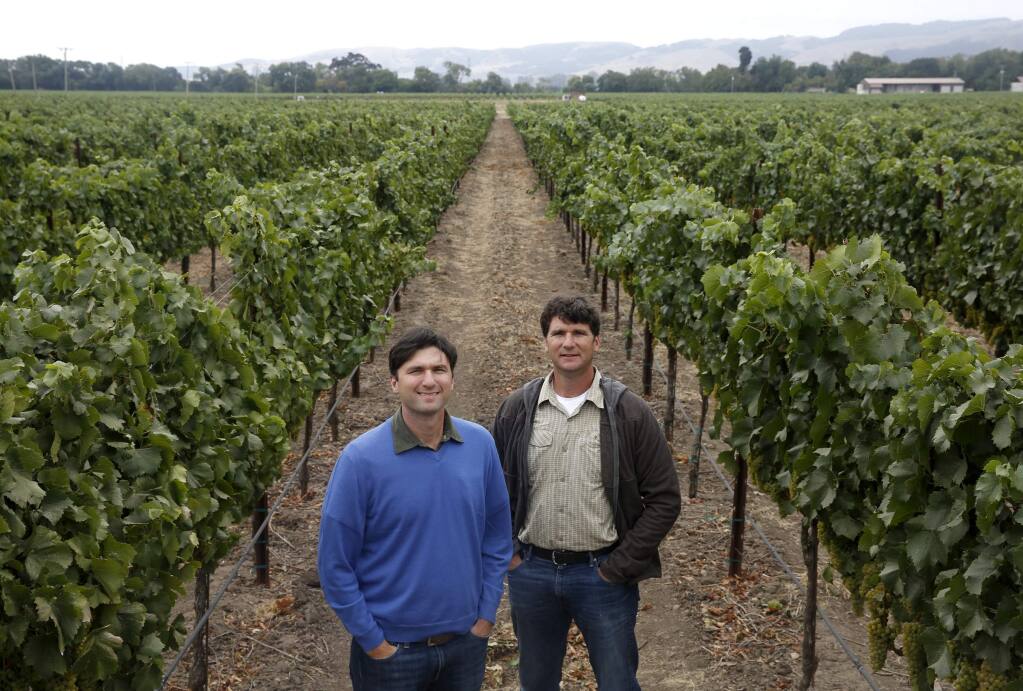 It's still too early in the growing season to determine which grapes to thin. "We'll probably know in six weeks," Sangiacomo said. Harvest time is typically around mid-August or September, depending on a number of factors.
Sangiacomo said in the last year he spent a lot of time on conservation measures with new irrigation technology to understand how much water vines need. "So, we have reduced our irrigation amounts extensively, and from a quality standpoint less water can mean better grapes," he said.
In fact, growers routinely withhold water during certain times in the growing cycle to produce more concentrated flavor in the grapes.
"Grapes are resilient and have a small water footprint compared to other crops like almonds and lettuce," said Kaan Kurtural, an associate specialist in cooperative extension in viticulture at UC Davis.
"However, yield is affected by the drought, so it affects the bottom line more than anything," Kurtural said. "Vines with access to less water produce less fruit."
Growers are paid by the ton, so smaller crops are going to affect them this year, the specialist said.
Kurtural speculated that while growers might garner less income, the wineries could end up happy, because last year the harvest was small because of smoke damage.
According to the law of supply and demand, the smaller harvest might drive prices up for wineries – though "we won't know until harvest time," he said. On the other hand, this might be more the case for larger wineries, not so much the small family-owned establishments in the Valley.
Another possible bit of good news: "Sonoma Valley grows grapes on a smaller scale, and focuses on world-class wines, so impact on the market should be less," said Nicole Garzino, executive director of the Sonoma Valley Vintners & Growers Alliance, in an email.
She was referring to research from UC Davis. Garzino, who took over as executive director in April, cited descriptions of California wine as a "tale of two markets," with the lower-priced end of the market facing potential greater impact from the drought while the high end flourishes on the unique flavor of drought vintages.
Sangiacomo, a third-generation partner at his family's vineyards, is optimistic about this year's outcome, while continued drought years might have troubling implications for future vine health and profitability for growers.
"Going through many droughts as a multigenerational farming business, our vines have responded well coming out of the previous droughts. We got through the 2015 drought just fine due to greater rainfalls in following years that helped the vines recover," Sangiacomo said.
"However, we can only withstand so many continuous years of drought," he added.
"We're used to coping with drought and adversity," Bradley said. "It's native to farming. It doesn't matter what you are farming or where – you are dealing with ups and downs every year."