RFO opens up the eyes of the world
Even the heavens are glad the pandemic is in remission -- with well over half of Sonoma County fully vaccinated, it's time to reopen the doors of the big scopes to the public at Robert Ferguson Observatory on Saturday, July 10.
The event marks the first full Star Party since February, 2020.
The volunteer-run observatory in the heart of Sugarloaf Ridge State Park has not been altogether dark, so to speak. The Valley of the Moon Observatory Association (VMOA), which runs the facility, has held outdoor-only star viewing events in the long lockdown period, and as recently as Tuesday, July 6, held a bring-your-own telescope event with hands-on discussion of the pros and cons of different telescopes, items to consider when purchasing or upgrading a scope, and the basics of telescope operations. Similar events are likely to be held later this summer; keep an eye on rfo.org for details.
This coming weekend is a return-to-form for the observatory, with a Friday lecture from 6 to 7 p.m. from Dr. Lynn Cominsky, of Sonoma State University, for an informative conversation about the Laser Interferometer Gravitational-wave Observatory (LIGO) which has launched the new field of gravitational-wave astronomy. The free lecture takes place in the observatory's classroom; entrance and parking at Sugarloaf is $10 per vehicle.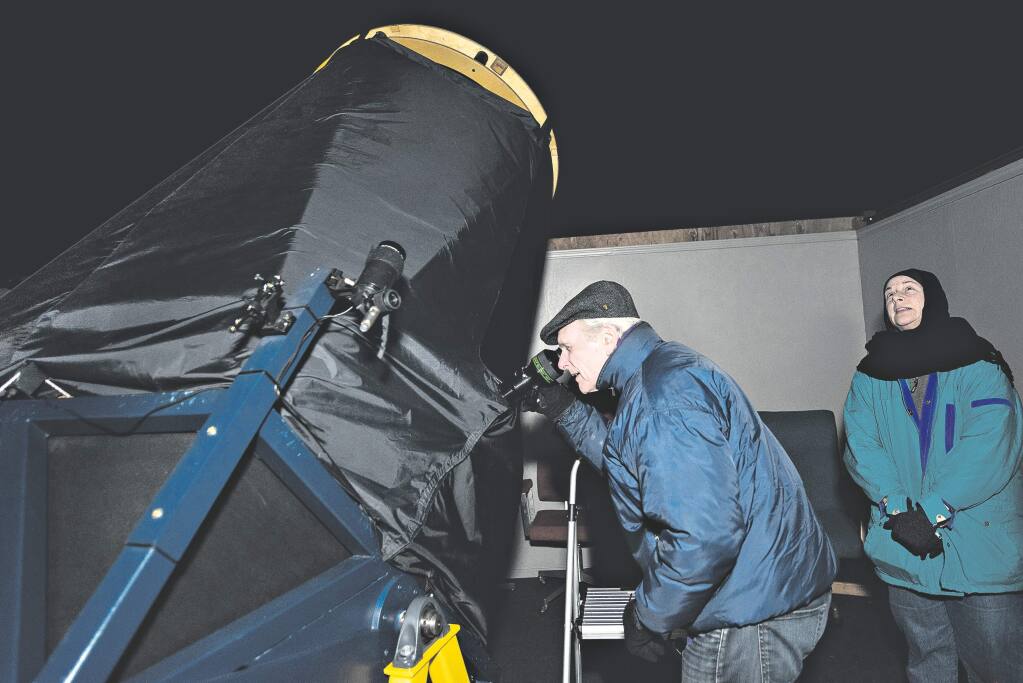 The next night, July 10, is the monthly Star Party, usually held as close to the dark of the moon as practical. At the Star Party events, the views are afforded by the observatory's three main optical telescopes: the 40-inch reflecting telescope in the west wing, the two-meter-long refractor in the traditional white dome with its retractable roof; and a Ritchey-Chretien 20-inch telescope — the same type of telescope as used in the Hubble — donated to RFO by the University of San Francisco in 2016.
Presentations on astronomical topics are given in the classroom throughout the course of the evening. This Saturday, it will focus on the Aurora Borealis phenomenon, with Laura Peticolas, associate director of the EdEon STEM Learning Center at Sonoma State. Peticolas also spent 17 years as a senior fellow at the Space Sciences Laboratory at UC Berkeley.
The Star Party begins at 8 p.m., and the observatory will remain open at least until 11 p.m. and possibly later, depending on how many join the party. Participants are advised to bring warm clothing, even in summer — observing is done outdoors. There is a short walk from the parking area to the Observatory and while you may wish to bring a small flashlight, no "white light" flashlights are allowed so cover the lens with red cellophane. Alcohol is prohibited on Observatory grounds.
In addition to the Sugarloaf vehicle fee, cost is $10 per adult, $5 for seniors, students and youth 12-17, and under 12 free. To register in advance, go to rfo.simpletix.com.