Meet the Principal: Creekside's Liz Liscum
Creekside High School's principal describes herself as a proud fourth generation Sonoma native. She attended Prestwood Elementary, Sonoma Charter School and graduated from Justin Siena High School in Napa in 2001. A Doyle scholarship enabled her to attend Santa Rosa Junior College, and she says that path "truly changed" the trajectory of her education.
While at SRJC, Liscum was involved in student government and was a member of the Student Senate. She continued her education at Sonoma State University where she earned her bachelor's degree in 2007, followed by her teaching credential and master's degree.
"When I accepted my first position at Adele Harrison Middle School, I jumped at the opportunity to teach the leadership class," she said. "That position propelled me into the world of administration, and I never looked back."
Liscum was named principal of Creekside in 2018, after 10 years teaching at Adele.
"I couldn't imagine not leading in the community that shaped who I am as an individual and educator," she said, noting that she was pleased to be teaching on the SVHS campus. "I've always felt I missed out that I didn't have the Sonoma Valley High school experience," she said.
What in your background do you feel best prepared you for this current situation of remote learning?
Remote learning is unlike anything I've ever experienced. I think educators are planners by nature, and this has been an experiment in flexibility. This challenging environment has pushed me to understand that this experience is entirely out of my control. I know that this will be a major learning opportunity in my career and won't be forgotten.
Are you primarily working from home, campus, a mix?
I'm working on campus as much as possible. Once per week, I work from home to help support childcare for my 4-year-old daughter, Avery. It takes a lot of energy to manage work and home, and I look forward to the days of being on campus five days per week without having to juggle both career and family at the same time. It is really too quiet on campus for me, I miss the noise!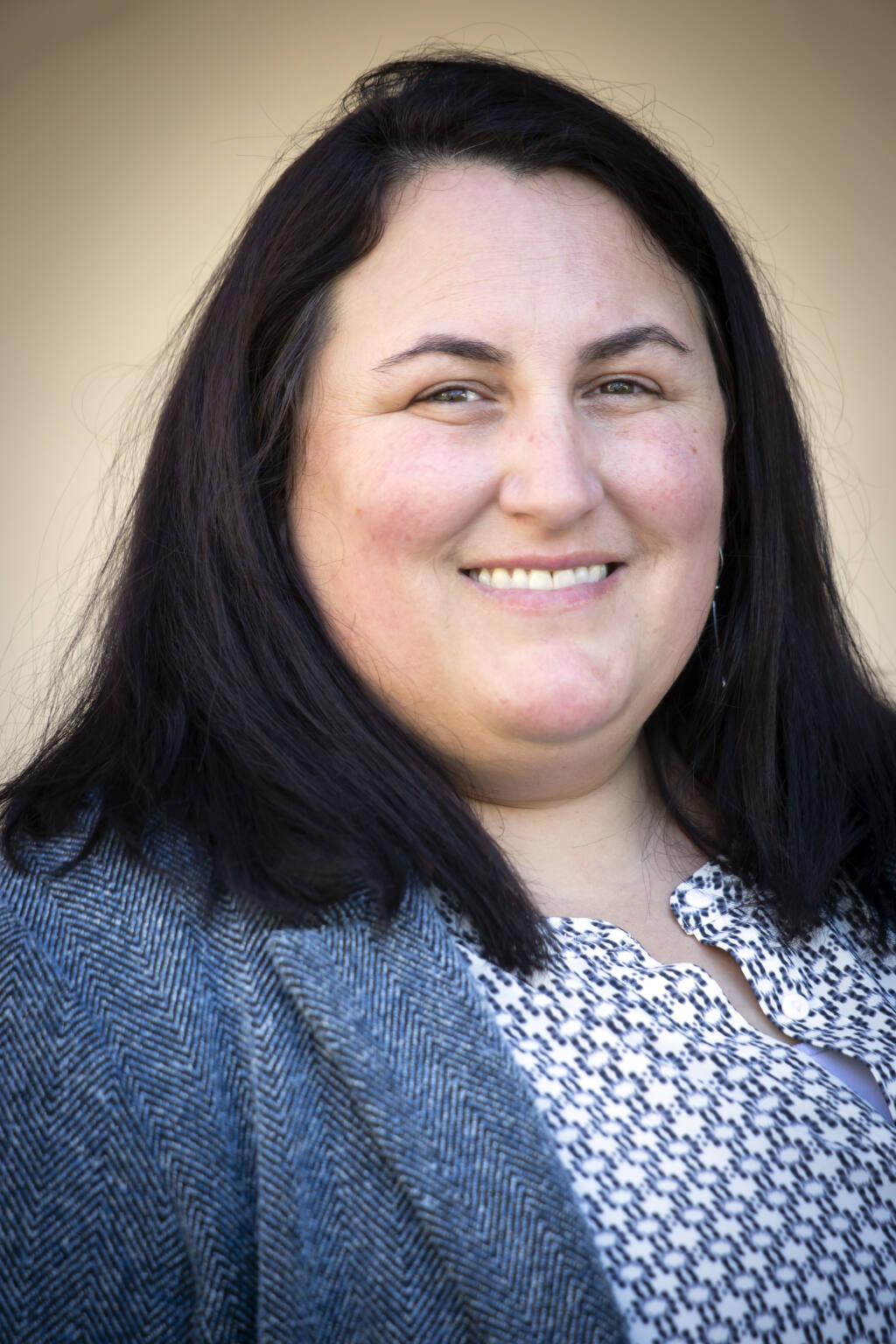 What's the silver lining to current situation?
I try to be an optimistic and positive person, and this experience has truly challenged me. Right now, my mantra is that "we'll never have this time again," so I've pushed to have all the school updates completed during this time. Creekside High School went through a large-scale construction upgrade this summer, and it is a brand new school. I can't wait to welcome students back to this updated learning space.
What worries keep you up at night?
I think I can count on one hand the number of good nights of sleep I have had since March 2020. I worry about our students' mental health and students not receiving the support needed to get through this difficult time. Teenagers are social beings, and I think this level of isolation is wearing on them, and I want them to have hope that we'll get through this.
What are your goals for this school year—personally, and for your school as a whole?
Creekside High School is in its WASC (accreditation) review year, and we'll have a visit in May 2021. As a staff, we are plugging along in our action items and goals for the school. A personal goal is I want to continue to foster relationships with students and families and keep lines of communication open. As a school site, we've incorporated weekly community circles into our Advisory classes, and I'm very proud of this work led by Creekside teachers. We have also continued our professional learning for the entire staff focused on PBIS (Positive Behavior Interventions and Supports) and restorative practices.
Any cool initiatives or programs you hope to try out this year?
We are currently collaborating with Sonoma Teen Services and the Boys and Girls Club to develop a program to support Creekside students with job coaching. We are at the beginning stages of planning, and we are very excited to create stronger partnerships with our community stakeholders. The Valley Home Academy has been especially exciting getting the program off the ground during a pandemic. It's been so amazing to collaborate with the teachers and staff. I've been able to pop into Zoom meetings for digital field trips and student presentations. The learning happening has been amazing.
How do you spend your time outside of work?
I love being with my husband Tony and daughter Avery. My toddler keeps me very busy, and we love to cook, ride bikes and be together. I'm an avid reader, and I do enjoy some reality TV. One aspect I've thoroughly enjoyed in the pandemic is not having every moment booked during nights and weekends.