Lorna Sheridan: Education Roundup, Sept. 22
Cool opportunity for teens: Teens ages 14 to 18 who are interested in learning about protected lands in Sonoma County can apply to the Conservation Council today and get hands on experience conducting conservation science research. To learn more and apply, go to https://forms.gle/kbRDw7uMZYYQXyca7. The application deadline is Oct. 4.
Homework in the great outdoors: Students are invited to come do homework at Sugarloaf Ridge State Park. Sugarloaf has installed a new high-speed internet connection at its Visitor Center and all are welcome to stop by and Zoom their classes or meetings from the center's lovely creekside deck. Parking fees apply. Learn more at http://ow.ly/y8bV50BpnZh.
Sweet offer: Top That on Broadway has a student promotion going on. Fifty percent off all orders for students Wednesdays and Fridays. Show a student ID or some completed homework. Top That now offers much more than frozen yogurt, with a menu that include Boba tea, coffee drinks, ice bombs and more.
Poll workers needed: There is a call-out for workers aged 16 and up to help out at the polls for the Nov. 3 election. Visit sonomacounty.ca.gov for more information.
Free New York Times subscription: The New York Times is offering free digital access to teachers and students through Sept. 1, 2021. More information here is available at http://ow.ly/5t2m50BkmfJ.
Grown kids at home: More young adults are living with their parents today than ever before in recorded history. In July, 52 percent of young adults lived with their parents, surpassing a previous high set during the Great Depression, a Pew Research Center analysis of census data shows. Read more at sanluisobispo.com.
Back to school night: Sonoma Valley High is hosting a virtual Back to School Night on Wednesday, Sept. 23, from 6 to 7:40 p.m. with virtual classroom visits and messages from Principal Jessica Hutchinson and the administration team. Adele Harrison Back to School Night is Tuesday, Sept. 22, at 5 p.m. and Altimira Back to School Night is Thursday, Sept. 24 at 6 p.m.
Volunteers needed: El Verano Family Resource Center seeks volunteers to help local students to navigate technology or with tutoring services one hour per week. For more information, contact Yuliana at yuliana@laluzcenter.org.
Pre-Kinder: The AVANCE program for parents and preschool age children (0-3) is available. AVANCE provides free early childhood literacy, parenting education and connects families to resources in preparation for preschool/kindergarten. Call 938-5131 to get on the interest list.
Reminder about free food: Sonoma Valley Unified School District offers free meals for all local students age 18 and under at several curbside locations. Visit sonomaschools.org/domain/614.
Tutors needed: Current Sonoma Valley High students who are interested in earning money tutoring outside of school should download the parent permission slip from the College & Career Center website at sonomaschools.org.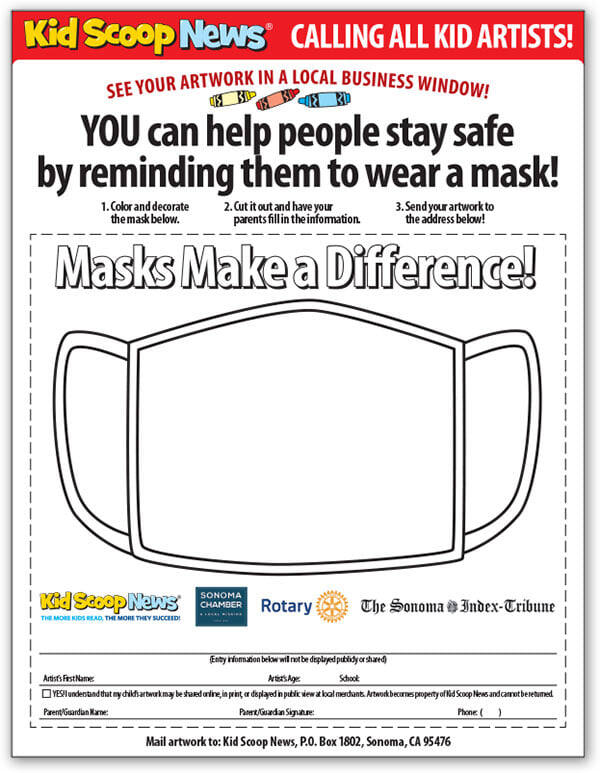 Mask fun: The Rotary Club of Sonoma Valley and the Sonoma Valley Chamber of Commerce invite kids to decorate a picture of a COVID safety mask and send it to Kid Scoop News, P.O. Box 1802, Sonoma, CA 95476, or email it to woodword@kidscoopnews.org. The art will appear on flyers that will be posted in businesses around the Sonoma Valley to help remind people to wear masks and stay safe. Visit kidscoopnews.org.
Good news about vaping: Vaping by teenagers fell dramatically this year, especially among middle schoolers, according to a federal report released last week. The report credits vaping-related illnesses, higher age limits and flavor bans. The survey says that the number of school kids who vape fell by 1.8 million in a year, from 5.4 million to 3.6 million.
College fairs: The National Association of College Admissions Counselors (NACAC) is hosting monthly virtual college fairs. To learn more, visit virtualcollegefairs.org.
Awards: California students in grades 5-12 are invited to apply for 2021 Prudential Spirit of Community Awards if they have made meaningful contributions to their communities through volunteering within the past 12 months — virtually or otherwise. The application is available at spirit.prudential.com.
More home schooling help: CourseHero has published some free study guides related to literature, biology, chemistry and algebra, available at coursehero.com. Core topics are broken down into smaller sections which contain videos, infographics, vocab words, reading recommendations, and practice problems.
Contact Lorna at lorna.sheridan@sonomanews.com.