Lorna Sheridan: Education Roundup, Feb. 23
Hiring a new Superintendent: Sonoma Valley Unified families, current and former - as well as broader stakeholders in the community - are asked to fill out a quick survey as part of the hiring process for the school district's new superintendent. The survey is online at surveymonkey.com/r/SonomaValleyEnglish and in Spanish at surveymonkey.com/r/SonomaValleySpanish.
Charter school back to school plans: Woodland Star Charter School announced that it expects to begin on- and off-campus hybrid learning April 12 for grades K to 2. Grades 3 to 6 will begin the following week. Their hope is that grades 7 and 8 will return shortly thereafter.
Sonoma Charter School has announced that grade K to 2 are scheduled to return March 1 and grades 3 to 6 are scheduled to return March 22. No news yet on grades 7 to 8.
Kenwood School: Kenwood School has embarked on a search for a new superintendent/principal to replace Bob Bales, who is departing in June 2021.
Trail riding: Sonoma Valley Trail Rides is open and socially distanced. Owner Michelle Rogers is launching a kids riding program this week at her new facility in Sonoma. Learn more at sonomavalleytrailrides.com/kids-lessons.
Eco adventures for teens: More information and registration info for the LandPaths Eco Adventures for Teens program meets three consecutive Saturdays on Feb. 27, March 6 and 13, from 10 a.m. to 3 p.m. each day; it is open to youth 13 to 16 years old. All COVID-19 safety protocols will be followed at the outdoor program. The cost is $240, and scholarships are available. The program meets at Bohemia Ecological Preserve, Occidental and Jenner. More information is online at landpaths.org.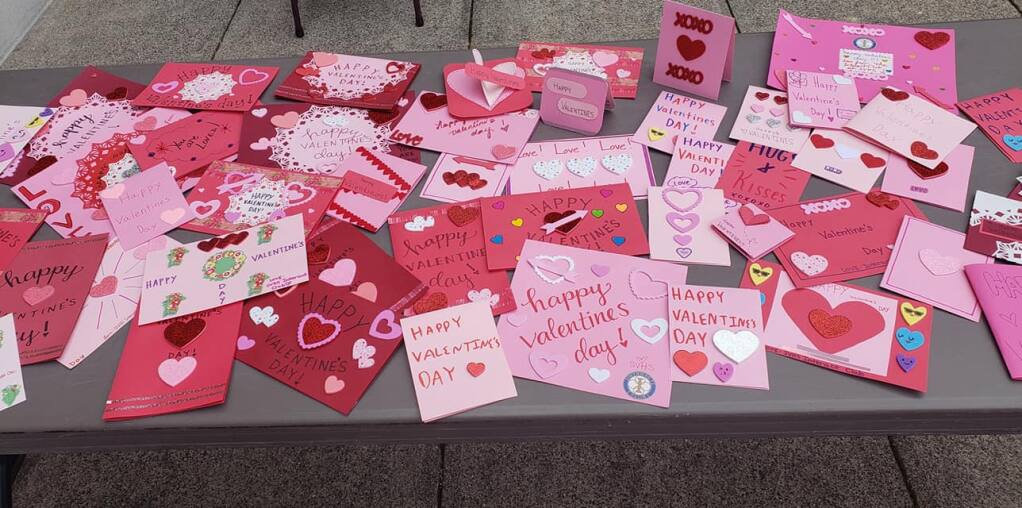 Kindness: Sonoma Valley High School Interact Club (with some friends and family) made Valentine's cards outdoors behind the Sonoma Community Center earlier this month and then distributed more than 150 handmade greetings to old folks homes and convalescent centers in Sonoma.
Video contest: A Teen Video Contest is underway at Exchange Bank with a $5,000 prize. Exchange Bank's "Lights, Camera, Save!" video contest is a national competition that encourages teens to use video to communicate the value of sound money management and inspire their peers to become lifelong savers. To participate, students (ages 13 to 18 of all experience levels) create a video, 30 seconds or less, on using money wisely by March 1. Exchange Bank will host the first round of judging and will award $100, $200 and $500 local prizes. The winner will be entered to compete on the national level for higher cash prizes. Learn more at exchangebank.com/lcs.
Chidren's books needed: Carol Davis is organizing a donation drive to stock the Little Free Library at Arroyo Way and Third Street West with some children's books and young-reader books.
Benefit: On his website, artist Fred Parker displays a catalog of his personal art, as well as a small catalog of art created by other artists during the Art Encounters program at Kenwood School. One hundred percent of any purchases from the catalog go directly to support the school. Parker hopes that his next in-person art show will be in September at the Alley Gallery in Sonoma. parkerfineart.com.
Trade training: Redwood Empire Electrical Training Center is conducting informational meetings about its trade program. The next remote meeting is scheduled for Wednesday, Feb. 24, 10:30 to 11 a.m. To attend, contact zoom@rejatc.org. More information is at ce.santarosa.edu/apprenticeships.
Understanding cannabis: Middle/high school/college students; parents/families, adult allies, educators and healthcare/mental health professionals are invited to "Marijuana 101" from 3:30 to 4:30 p.m. on Wednesday, Feb. 24. Learn about neuroscience and the developing adolescent brain; impact of cannabis use on brain functioning, academic performance, mental health and life outcomes; forms of use, potency and vaping. Register at tinyurl.com/lhwnimbx.
Marijuana Prevention Education Series 2020-2021.pdf
New hire: Sonoma Valley Mentoring Alliance has hired Maureen Crumly as its new Sassarini site facilitator. Crumly has a B.A. in Spanish from San Francisco State and a bilingual teaching credential from Sonoma State. She and her husband have two grown children who attended Sassarini and Altimira middle schools and SVHS.
Contact Lorna at lorna.sheridan@sonomanews.com.