Lockdown-lite? Compliance weakens as pandemic rages
When the original stay-at-home orders were issued in March, Sonoma Valley citizens fell quickly in line. Streets that would normally have been bustling were empty and a ghostly quiet settled over the town. People did their best to comply with the ordinance, despite its total disruption of norms. They gave up their gym habits for neighborhood strolls, dutifully followed foot traffic schematics in stores deemed essential, and generally hunkered down as instructed.
But the second stay-at-home order issued in December has been met with discernibly more tepid compliance. If March was a hard lockdown, December looked more like "lockdown lite": life wasn't normal, but it resembled something far closer to normal than the life lived within the narrow confines of the ordinance last spring.
How to explain the public's change in perspective, given the exponential spread of the virus? With infection rates soaring and ICUs near capacity, why would people choose to flout orders now?
"It comes down to risk assessment," Maureen Clancy of Boyes Hot Springs said in a discussion initiated by the Index-Tribune on the social media platform Nextdoor. "Risk assessment in humans has been extensively studied and written about. Gamblers use risk assessment. Burglars, smokers, all kinds of people."
It may also come down to pandemic fatigue. "I'm just sick of it all and feel there is an agenda other than protecting our health," Eddie Adam said. "I'm trying not to even think about it and keep fighting to make ends meet and have a life."
Making ends meet after months without income is a prospect beyond most individual's and small businesses' reach. Many of the salons and health clubs and tattoo shops and restaurants had already begun slipping into the breach before the second ordinance limited business again.
Shotsie Gorman, who owns Tarot Art and Tattoo Gallery on Highway 12, was relieved when the county lifted the prohibitions against tattooing in October. But new lockdown orders just weeks after expiration of the first may signal the end of the business he and his wife labored to build. Even if he were inclined to flout health department regulations, Gorman says there's really no business to speak of at present. "Most folks are too fearful to come in anyway," Gorman said.
The shifting sands of COVID science have made Gorman's personal sacrifice difficult to bear. "I am frustrated by the lack of direct evidence that we are not safe. I had just passed my health department inspection with flying colors. Two days later, closed again. There is no reality to my being banned."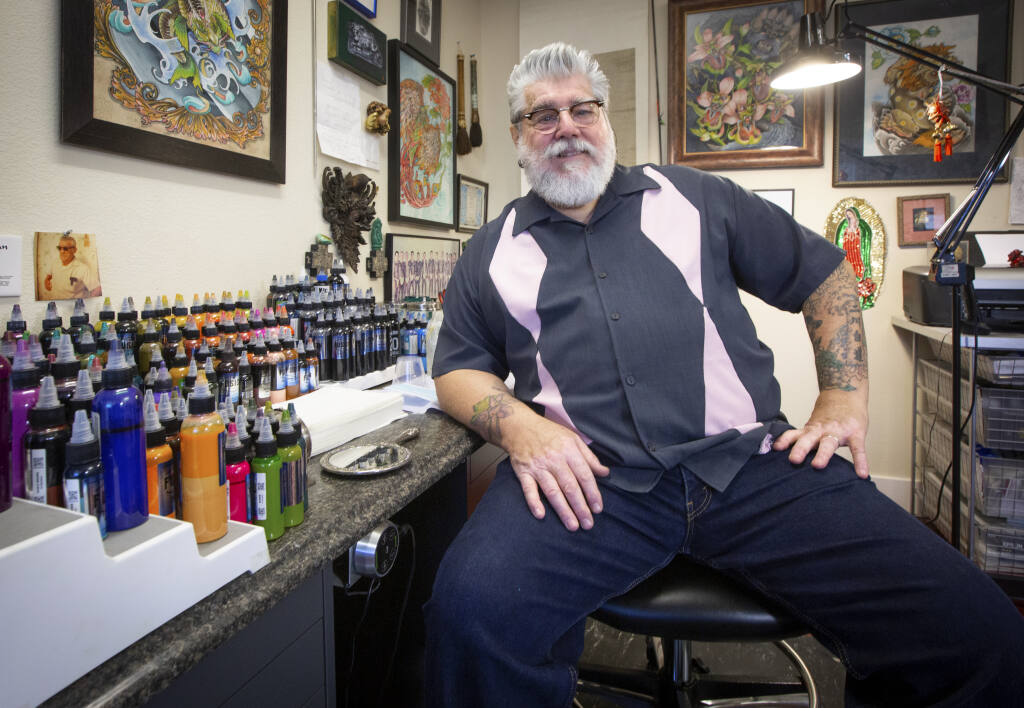 Josette Brose-Eichar agrees that the specter of government officials chasing down the wily, moving target that is COVID-19 has led to understandable frustration for many citizens. "Too bad there are glaring holes in some of the data used to create our health orders," she said. "It feeds the idea that the officials in charge do not know what they are doing or that there is some kind of cover-up or conspiracy going on."
But Brose-Eichar also acknowledges the difficulty of the situation, and believes — all in all — officials are doing their best. "My feeling on the latest closures is that they are looking at what they can control versus what they cannot. There is no way to police people gathering indoors in their own homes and spreading COVID, so they're looking at the margins."
Enforcement of county code is an unenviable job. Robert Smith, Sonoma's city prosecutor and code enforcement chief, said that the term is "probably Latin for 'everybody hates you.'" But behind papered windows all over town, fitness professionals and hairstylists and aestheticians are at work, struggling to survive as the pandemic rolls on. Smith's mandate is to interfere with those businesses in an effort to protect the health and welfare of the majority, even if it requires existential sacrifice from a particular few.
Some of the offenders are discovered by Smith's team, but most are reported by observers. "Oh, yeah, we get a lot of referrals from citizens who are afraid and they see what they think is a public health violation and call us," he said. "I'm not sure what's going to happen with these poor restaurants and retailers, but our job is to protect the general public."
Smith said his department has written relatively few citations, preferring instead to educate violators. Papered windows, however, are a different story. "Somebody operating behind closed doors with papered windows? They're not going to get a warning," Smith said.
The latest county ordinance — now extended into February — again places prohibitions on non-essential travel, but many in the hospitality sector are taking whatever business they can. A call placed to one of the larger hotels in the Valley was fielded by an individual happy to help book an anniversary getaway. When asked specifically if they were taking reservations of that sort, the agent replied, "Yes, we certainly are. Absolutely."
Vacation rentals, too, continue to accommodate out-of-town guests, as many operators depend heavily on the income they generate. "If somebody wants a change of scenery, to come read a book or just hang out and cook in a different location, how is that perpetuating the pandemic?" one Airbnb host replied to the Index-Tribune.
Even prior to the latest lockdown, some businesses were inclined to skirt the rules. In a Dec. 22 story from the San Francisco Chronicle, at least four summer weddings with between 22 and 46 guests were hosted and catered by Sonoma's Best Hospitality Group.
Jenny Perez, a Sonoma psychotherapist and mother of two, is sympathetic to those who feel they cannot comply with the health mandate for economic reasons but believes the root of dissent likely sprouts from something far deeper. "In America, the pandemic has highlighted to me how our focus on self has become our Achilles heel," she said. "In order to find balance again more of us will need to think about community over self."
For Eddie Adam, and no doubt many others, mustering enthusiasm for anything at all has begun to feel like an insurmountable challenge. "I'm starting not to care," he said. "Others are free to hide from it forever or whatever. I guess I'm just numb to it now."
Contact Kate at kate.williams@sonomanews.com.