Hunters of Color: Sonoma grad seeks equity in the outdoors
As a Sonoma Valley High School student, Jimmy Flatt's entire identity was wrapped up in being a baseball player.
But after graduating in 2014, he quit playing at a competitive level at Oregon State University in order to focus on getting his degree in mechanical engineering. Today, Flatt, 25, is a manufacturing engineer at a research and development firm in Corvallis called Ampere Scientific that focuses on magnetic field dynamics.
Over the years, hunting and fishing and enjoying the outdoors has provided Flatt with a balance to his studies and he says he found that it was great for his mental health.
"It has always given me a purpose and a release from the hard times and the stress of school or work," he said.
Flatt has been hunting since he was a student at Woodland Star Charter School. He was invited on his first hunting trip at age 8 by family friends in Sonoma.
"I remember shivering in the middle of a marsh next to some dogs, but I was hooked," he said. "I realized that I wanted to do this the rest of my life." He started with waterfowl, then moved up to upland game like pheasant, quail and turkey.
From there, he moved on to big game, like pigs and elk. He eats everything that he hunts.
"Early on, my mom told me that if I was going to take any bounty from nature, I also had to find a way to give back," said Flatt.
As a teen, he started to volunteer for Ducks Unlimited, a huge outdoor organization that focuses on preserving, maintain and conserving wetlands and places that are good for waterfowl. When he arrived in Corvallis, he joined the chapter there.
After reading a 2016 U.S. Fish and Game study which found that 96 percent of all hunting license holders in the United States are of European or white descent, Flatt was struck by the inequity in those numbers.
"I had noticed that none of my friends of color shared this passion with me," said Flatt. "My best friend in Sonoma said that although his dad used to hunt in Mexico all the time, it was just not something they continued after arriving in the U.S. He said that it was a white man's sport."
Flatt launched Hunters of Color in mid-2020 and its social media accounts are currently attracting hundreds of new followers each week.
"The main focus is on people who have an interest in hunting and fishing but don't know how to get started," said Flatt.
The nonprofit is led by Flatt, who is Pacific Islander and Hispanic; Lydia Parker, who is a registered member of the Canadian Kanien'keh:ka tribe, most commonly known as the Mohawk tribe of Canada; and Thomas Tyner, who is African-American. All three work on a volunteer basis.
"We feel strongly that the outdoors are for everyone and hunting shouldn't belong to just one demographic, it should be inclusive of what the United States looks like," said Flatt.
Flatt has spent a lot of time researching why different minority groups don't hunt in America, even if there was a strong hunting tradition in their home countries.
"From a historical standpoint, in most countries, hunting was a patrilineal tradition that was passed down from father to son, grandfather to grandchild," said Flatt. "But in the U.S. there are financial barriers due to licenses and equipment. Add to that the cases of indigenous people kicked off of their ancestral hunting land, and early laws that prevented Black people from hunting certain species, and it has cascaded down from there and made it hard to pass the tradition from generation to generation."
Land access is also an issue.
"On the West Coast, we have a lot of public property, like national forests where you can go hunt and camp and fish anytime you want, with a license. But in states like Texas and places on the East Coast, almost all the land is privately owned, so in order to hunt, you need to know somebody who's going to give you access. Or you have to pay to get access," he said. "That's a huge barrier."
Licenses can range, depending on the species, from a $100 to ten times that, says Flatt. And then there is all the gear ‒ a rifle, shotgun, potentially a dog.
Flatt's team is trying to address that gap by offering experienced mentors, land access, hunting licenses and hunter safety classes.
So far, he has mentors in 30 states signed up, and is in the process of vetting many more. Hunters of Color is open to all ages, races and genders ‒ anyone who has experience in the outdoors and wants to pass it along.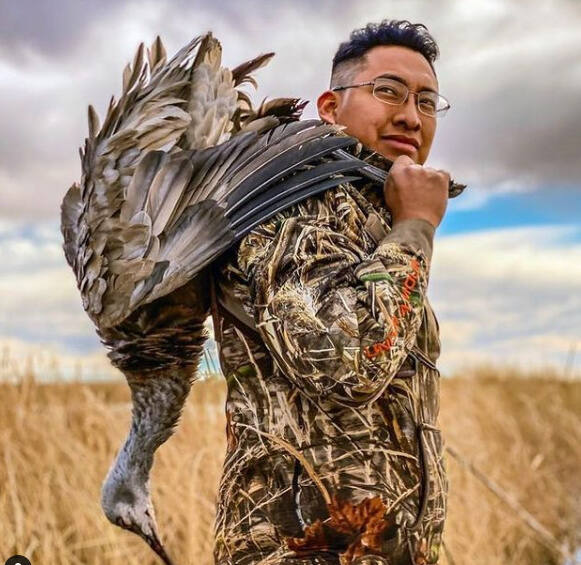 Flatt is researching grants as well as connecting with private donors. He is also planning some in-person fundraising events.
Balancing his work as an engineer and developing the Hunters of Color mission has been "incredibly rewarding," said Flatt.
"I was taught from a young age that you always have to give back, and I always wanted to give back to hunting because it connects me to nature and really saved me after I gave up baseball," said Flatt. Hunting has also turned Flatt into an avid conservationist.
"I'm a strong advocate for public lands and for procuring your own food," he said. "Hunting really changed my life for the better and I want to share that."
Contact Lorna at lorna.sheridan@sonomanews.com.