Kathleen Hill: 'Today Show' and NYT tout Glen Ellen Star; Valley Swim Club; Papa Murphy's and more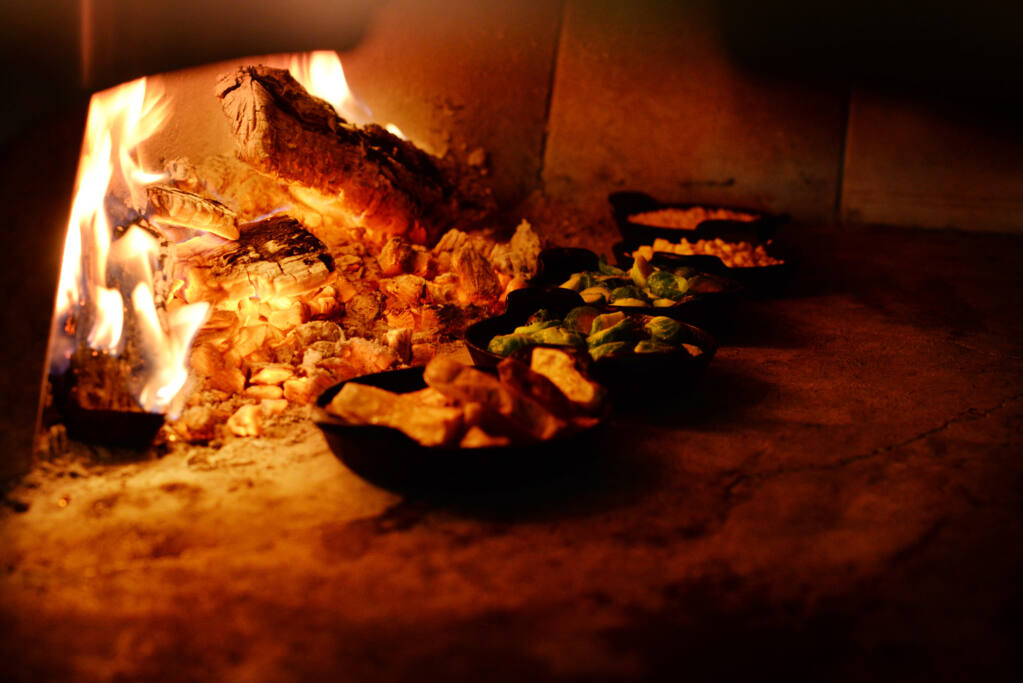 First a writer for the New York Times blesses Glen Ellen Star and Valley Bar + Bottle with being his two favorite Wine Country restaurants, and then Al Roker, weather host of NBC's "Today Show," dined with friends and colleagues at Glen Ellen Star. Will we ever be able to get in there again?
Glen Ellen Star Co-owner/Chef Ari Weisswasser told the Index-Tribune that Al Roker and friends "tried a little bit of everything" on the menu. If they visited my restaurant, I would want them to try everything, too.
And a newer Sonoma startup, the super healthy Spread Kitchen catered lunches for the crew which filmed at St. Francis Winery, at the northern tip of Sonoma Valley.
According to Spread owner/chef Cristina Topham, "we did a pita bar with chicken shawarma, falafels and kofta, fattoush salad, baklava and tahini brownies. We'd catered a shoot for them at a winery several months ago and they loved us and wanted to use us again. Apparently the crew was super happy when they saw the Spread van pulling up."
Congratulations!
Valley coming to Delicious Dish
Not much has progressed at either the former Reel & Brand, purchased by the Harrises of Lou's Luncheonette and Jack's Filling Station, while they await health department approvals.
Meanwhile, Emma Lipp of Valley Bar + Bottle, which purchased the former Delicious Dish site, says that they have a name: Valley Swim Club, or just Swim Club. Lipp says they are "inspired by the bathing culture that the Springs was founded on, as well as the Olompali Swim Club where the Grateful Dead hung out in the summer of '66, as well as seaside-surfside-poolside food culture everywhere."
This could be super interesting and fun fish shack.
Neither spot is expected to open very soon, but we can always hope.
Tuesday evening farmers market delayed
Our Tuesday evening farmers market opening was pushed back to May 9, due to a drizzle of rain. All of the vendors were listed in last Friday's Sonoma Index-Tribune.
You might have noticed the absence of both Paul's Produce and Oak Hill Farm from the lineup. Both were late in planting due to our fortuitous heavy rains and mushy farmland.
But both are selling what they have at the Friday morning farmers market at Depot Park along with many other growers and vendors. Enjoy it all!
Bloom Carneros joins superbloom
Jordan Kivelstadt has done it again. He is always full of creative high energy. Even if our "superbloom" hasn't quite shown up.
Kivelstadt created his (made up) namesake winery and turned it into a successful retail operation in Glen Ellen, then bought what had been Matthew Nagan's Schellville Grill after Palooza owners tried to force Nagan to sell to them by enclosing the parking lot with a chain link fence. Kivelstadt moved in as fast as possible to upgrade the property.
With substantial investment, Kivelstadt's first effort seemed to be a novel Kivelstadt tasting room with seating and standing areas to appeal to a certain audience, with some food (always good) available. He also spruced up the patio and outdoor area, with water bowls available for dogs who brought their people along.
Then more food variety was added along with a children's play area, more plants and flowers, more staff, a dog menu, and generally more fun with occasional music.
Bloom Carneros is Kivelstadt's latest incarnation that now emphasizes the property as a restaurant with Kivelstadt and other excellent wines added to the list. Chef Jennifer McMurry has been able to express herself through new menu items after being there for a year. They even now list publicly their local food sources, a refreshing statement of honesty among several restaurants claiming to use local products.
Many locals remember this spot as the Lazy D and then Ford's Café, where neighborhood farmers hung out and showed up for breakfast, sometimes before daylight.
When the American flag was flying we knew the Amtrak bus was either on its way to drop off passengers or pick us up to go to the Martinez station to rumble across the country on trains. But most fans remember it for weekend breakfasts, whoever owned it and whatever it was called.