Kathleen Hill: 'Sideways' with Rex Pickett, Vanessa Robledo's label, Paella & Pinot and more
Many readers might remember Rex Pickett's first book,"Sideways," was first published in paperback by St. Martin's Press. To Pickett's delight, it was published more recently in hardcover by Blackstone Publishing of Oregon. It was made into an enormously successful movie called, surprise, "Sideways."
All of this and the traveling lifestyle fills Pickett's own life with so much adventure and fun that he has set off to write a series of sequels, the first of which he will launch and sign at Walt Winery's tasting room on First Street West this Sunday, Aug. 13. Tickets for wine tasting only: $35; tasting and signed "Sideways: New Zealand" book $50, and $100 for tasting, signed book and bottle of 2019 Walt Clos Pepe pinot noir wine. Tickets at Eventbrite.com. 10:30 a.m. to 12:30 p.m.
In one of our conversations, Pickett said that during his month of research for "Sideways: New Zealand," he mentioned giving Miles, his alter ego, a challenged cat and suggests they traveled both the south and north islands in a camper. Turns out in our previous radio conversation that he had a local driver and they sometimes stayed in hotels.
On Aug. 19, Pickett will show his original film, "Sideways," on the big screen at the Sebastiani Theatre, possibly our last chance to see the original film this way, especially with a pinot noir tasting with wines from Buena Vista, Nicholson Ranch, Arista, Patz & Hall and Walt wineries. $30 wine tasting and film, $45 for winetasting, film and original "Sideways" book signed in person by Rex Pickett. Wine tasting 4 p.m., film screening 5 p.m.
Last chance Muscardini-Venturini dinner
Tomorrow, Aug. 12, is our last chance to enjoy the combination of Catherine Venturini's fine cuisine and Michael Muscardini's fine wines this summer. Muscardini's wines are the first from California sold in restaurants in Florence, Italy.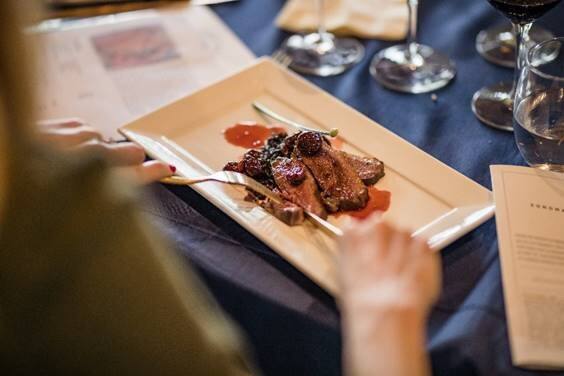 The five-course al fresco dinner in the garden at Muscardini's tasting room in Kenwood will include passed appetizers of seared Ahi tuna on flatbread; grilled quince with jamon (ham) and Manchego little sandwiches; and Spanish beef empanadas with Muscardini's 2022 Rosato di Sangiovese wine.
The first course brings Gulf shrimp and mussels in garlic lemon broth, followed by lemon sorbet, then roasted almond saffron Mary's chicken with Barcelona rice and fresh peas, tomato and chorizo, plus an artichoke and Romano bean tagine, with Muscardini's red blend.
Dessert follows with vanilla bean panna cotta and Rhubarb and Kenwood strawberry compote with 2019 Fortuna proprietary blend.
All of this is accompanied by the romantic music of John Burdick. Both Burdick and Venturini of Cuvée Wine Country Events were well known at her former Olive & Vine restaurant in Glen Ellen's Jack London Village. $145. 5:30 to 8 p.m. Tickets quickly at muscardinicellars.com.
Pinot & Paella at Deerfield Ranch
The same evening on Saturday, Aug. 12, Robert Rex will be whipping up his favorite paella for a Pinot & Paella event at Deerfield Ranch Winery, where Michael Muscardini and others make their own wines.
Dinner includes paella, salad, dessert and, of course, pinot noir wine. $65. 6 to 9 p.m. 10200 Sonoma Highway, Kenwood. Reserve quickly at 707-833-5215. Deerfieldranch.com.
Vanessa Robledo launches own winery and label
Sonoma native Vanessa Robledo has taken the giant step to start her own winery and label after 25 years in the wine business helping other owners become successful.
Vanessa first worked in the wine business after school in her family's vineyard at age 8. After U.C. Davis she led Robledo Family Winery from 100 cases a year to 20,000, creating their wine club and translated for her father during presentations and sales meetings across the United States.
After leaving the family winery Vanessa helped two Napa Valley wineries achieve similar success. She also runs her Vanessa Robledo Wine Consulting, while her daughter Jocelyn films videos of the wine growing and winemaking processes for their new website, vintnersdiary.com. Jocelyn is a film school graduate who currently focuses on sports videos in Chicago. Vanessa has also been honored by a wide range of organizations for her entrepreneurship.