Kathleen Hill: Avocados, MacArthur Place, Larson Walkabout
As many of you know, I have to turn my column in on Tuesdays for the Friday edition of the Sonoma Index-Tribune.
A few hours after you read about the suspension of avocado imports last Friday morning, the U.S. Department of Agriculture's Animal and Plant Health Inspection Services ended the suspension of imports of Mexican avocados from the state of Michoacán into the United States.
There were some concerns about the first avocados to arrive after the suspension of the suspension and whether the first avocados to arrive in California would have been inspected or "clean."
Probably by the time you read this a week later, avocados in Sonoma grocery stores might be fine.
Sweetheart Gala & Auction next weekend
Our Boys & Girls Clubs' important annual fundraiser, Sweetheart Gala & Auction, comes up next Saturday, March 5.
The event is later than usual due to the board and staff decisions to postpone to March 5 out of COVID-19 caution, and now all are ready to go.
Each year the Boys & Girls Clubs honor "Sweetheart" locals who have helped keep the Club open in the toughest of times, which we have all just been through.
This year's honorees are Mike and Mary Schuh. Previous Sweethearts include Deborah and Dr. John Emery, Marchelle Carleton and Larry Krieger, the Sangiacomo family, Dub Hay, Matt Sevenau, Bob and Bill Lynch, Bob Stone, Helen Fernandez, Jeanette and Whitney Evans, Jim Lamb, Marcia and Gary Nelson, Judy and Les Vadasz, Don Sanchez, Kay and Kevin Austin, Holly and Steve Kyle, and Lisa Sonnen.
With this year's theme "Bohemian Rhapsody" Elaine Bell will again cater the dinner in the Maxwell Clubhouse starting with a French butter lettuce salad with shallots, herbs and Dijon mustard vinaigrette.
The main course will be a grilled Bryan Flannery prime hanger steak with roasted root vegetables, trumpet mushrooms, a potato galette, micro greens and cabernet demi-glace. The alternative entrée is a seared cauliflower steak with chimichurri sauce, Calabrian chili, creamy whipped potatoes and roasted rainbow carrots with mircro celery, all accompanied by assorted artisan breads and sweet butter.
Bryan Flannery is the same high-end meat purveyor whom Elaine Bell got to donate more than 100 pounds of ground beef to Sonoma Overnight Support (SOS) for Elaine and staff to turn into several weekends' meals to feed unhoused clients SOS had placed in local hotels in the colder month of February.
Great wines to accompany the meal come from Stone Edge Farm, Patz & Hall, Ram's Gate and Silver Oak.
Wines from Stag's Leap Wine Cellars, Francis Ford Coppola Winery, Idell Family Wines, and Gundlach Bundschu will be served during the opening reception.
Local sponsors include Michael and Mary Schuh, Lyn and Dub Hay, Carolyn Stone, The Lux, Vadasz Family Foundation, Silverado Contractors, Boden Plumbing Heating and Air, Sonoma Raceway, Dr, Judy Bjorndal, The City of Sonoma, Ginger Martin & Co., and The Sonoma Index-Tribune.
Some tickets are still available, starting at $300. Cocktail reception and silent auction at 5 p.m., dinner, Sweetheart presentation and live auction at 7 p.m. Sweet and savory dessert bar and After Party with dancing at 9 p.m. Tickets at bgcsonoma.org/sweetheart. More info at 938-8544.
Knife sharpening today at Sign of the Bear
According to energetic Sign of the Bear co-owner Laura Havlek, Mike or Sean will drop into our gorgeous local kitchenware shop this afternoon, Friday, Feb. 25, after 2 p.m.
Bring your knives to be expertly and carefully sharpened. They performed magic on the one knife I had in my single days. 2 p.m. 435 First St. W., Sonoma. Be patient finding parking. It's worth it. More info at 996-3722.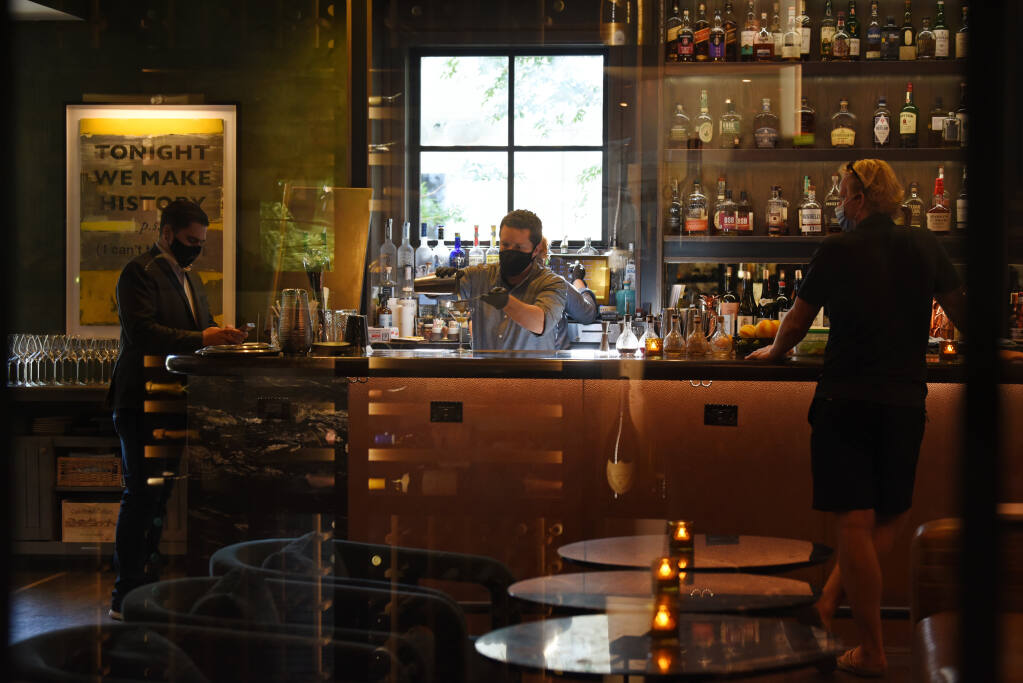 Leadership changes at MacArthur Place, again
MacArthur Place, the much-storied inn developed as such by the great and sensitive local developer Suzanne Brangham, has again changed chefs and food and beverage leadership. That could be a good thing.
The new culinary team includes Executive Chef Jordan Hoffman and Food and Beverage Director Joshua Nudd.
Hoffman will develop new menus for Layla, The Bar, and The Porch, while Nudd will try to improve operations of the three culinary endeavors, plus room service, weddings, and other social events.
Originally from Michigan, Hoffman first worked in a small local diner, then at country clubs through high school. After graduating from Schoolcraft College in Detroit, he took off for Las Vegas. There he climbed the kitchen ladder partly in Joel Robuchon's kitchen at the MGM Grand and later at The Iconic Collection. He is also an avid painter at home.