Kathleen Hill: 'American Pickers' picks Sonoma, new juice bar, Costeaux coming?
"American Pickers" stars Mike Wolfe and his brother Robbie recently filmed for 12 hours at Raff Tomsett's hanger at Sonoma Skypark and landed firmly at the Swiss Hotel for sustenance.
Tomsett has a huge collection "full of plane stuff, movie props, and so much more," according to Sharon Ivanoff, proprietor of Reclaimed Antiques on Eighth Street East.
Ivanoff has served off and on as a scout for Antiques Roadshow and has visited many collections (including my Kathleen Hill Culinary Collection) and connected Tomsett with the show.
Of course they ended up at the Swiss Hotel where bartender Tanya Lyons said "They are really nice guys!"
And then they moved on to film in Petaluma.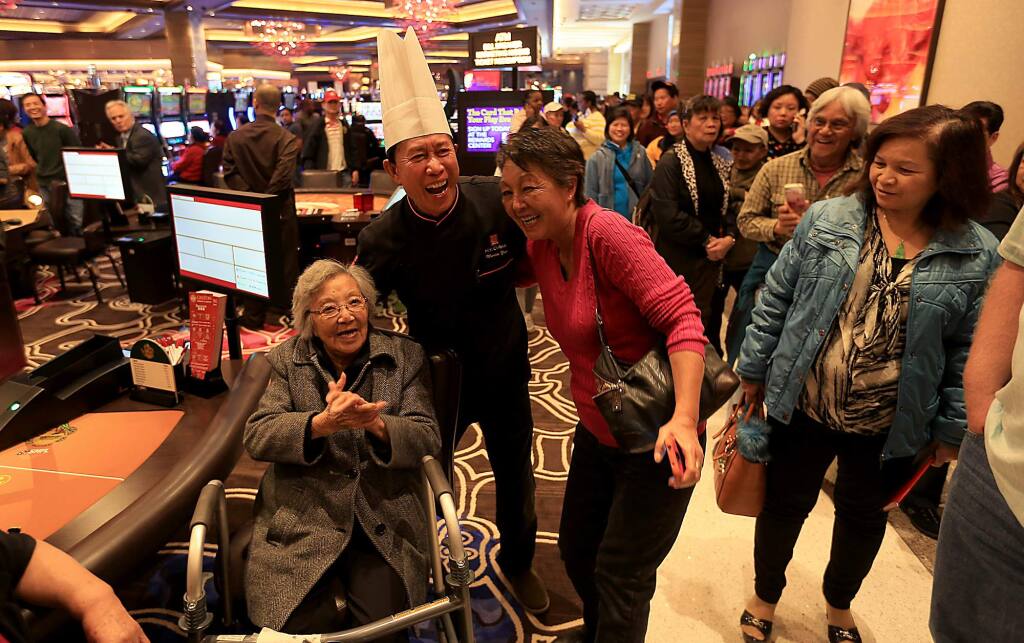 SIFF to bring Martin Yan to film festival
Last year the Sonoma International Film Festival launched its Culinary Excellence Award by bringing the great chef, instructor and television star Jacques Pépin to Sonoma via a $10,000 donation to his Jacques Pépin Foundation, which trains people who need help to learn an art and trade in the culinary field.
This year, SIFF is bringing Chef Martin Yan to star at their "Chefs & Shorts" dinner, in partnership with their Nova Scotia friends of "Devour!" food film festivals.
According to SIFF, Yan, star of the "Yan Can Cook" television series, will prepare "one plate" of the multi-course meal to take place at Hanna Center on March 23.
Many of us know of Yan from his PBS show where he entertains viewers and usually a live audience which laughs at his humor thrown in with the food. Last year Yan received the 2022 James Beard Lifetime Achievement Award, won a few years ago by former Sonoma resident Paula Wolfert who has returned to her roots in New York. Yan has also appeared on nearly all food networks and has taught loads of classes with his boundless energy.
Tickets to the "Chefs & Shorts" dinner total close to $360 when tax and fees are added to the $350 base price. If you are a pass holder to SIFF check the website to find out if the dinner will be included. Sonomafilmfest.org.
As well, Chef, PBS host and restaurateur Joanne Weir will return this to host a luncheon as she did last year.
Costeaux, Mattson, Tia Maria?
Rumors have swirled in "bomb cyclone" circles since a "Sold" sign went up on the old Happy Dog building.
Who bought it was and is a hot topic locally and on social media. Everyone thought they had the exclusive answer.
The listing agent swore to me that it was not developer Ken Mattson, but its vacancy and lack of activity has made some people think it just might be they.
The other strong, and possibly true, rumor is that Costeaux French Bakery of Healdsburg had bought the triangular property, although the same empty beer bottle and cleaner sprayer remained on a table inside for months.
There were other unrelated and specific rumors that Costeaux was looking for a Sonoma location, although we already have Scandia Bakery, Basque Café & Boulangerie, Sweet Pea, Baker & Cook and Little Maya bakeries here.
Then suddenly many of us read online and in the Sonoma Index-Tribune that there would be a one-day popup by a bakery called Tia Maria at Happy Dog's little parking lot to bring "Roscas de Reyes" to celebrate the Epiphany as if no one else here bakes and sells Roscas and Mexican pan dulce. Roscas are like small "Kings Cakes."
The popup would be, and was, across Highway 12 from local favorite Little Maya Bakery located in the same strip mall where Golden Springs is and Palms Grill was.
Little Maya's baked goods are also available at Iniguez and El Coyote and other local carnicerias and markets. And they make exquisite and exquisitely decorated wedding and other celebratory cakes, and tortas as well.
In fact, Little Maya has just expanded from two storefronts to add the previous Enterprise Rental office to their bakery, complete with tables and chairs so guests can sip drinks and enjoy pastries right there. Little Maya spun off several years ago from Maya Bakery in Vallejo.
Tia Maria is owned by Costeaux. Surprise.
There is some speculation that this popup was a marketing test. If so, it's questionable whether it worked. I drove by three times, only to observe a woman with a sign waving to drivers passing by to tempt them to make a last instant right turn into the Happy Dog parking lot, if you dare. As one who was majorly rear-ended recently while stopped at the Verano Avenue stoplight, I couldn't think of it.