Fridge needed for good cause, Aunt Momo, Cannard Farm CSA, Ghilarducci news
Sonoma Meals on Wheels (MOW) is putting on a Christmas Craft Fair and Lunch Box Café on Dec. 4 to raise money for a new refrigerator. Every decade or so, one of their heavily used refrigerators conks out, and that is now, say organizers.
The event will include a coffee truck, foods canned by MOW Executive Director and Chef Anea Kamahele, new board member Esther Oroz-Carranza, and $5 box lunches like the ones delivered to clients are much better than you might expect.
"Cowboy Kamahele," aka "The Real Hawaiian" and Anea's father, will provide live ukulele music.
Sonoma Meals on Wheels delivers two meals a day, Monday through Friday, to 50 to 65 homebound neighbors in Sonoma Valley. Volunteers deliver the food on six routes around town. Recipients are all homebound and cannot leave to shop or cook and need food delivered to survive.
Join me at the fair on Saturday, or you might prefer to send a check to Sonoma Meals on Wheels, P. O. Box 623, Sonoma. The Christmas Craft Fair and Lunch Box Café are free. $5 for Lunch Box. 10 a.m. to 3 p.m. 275 E. Spain St. (Trinity Episcopal Church), Sonoma.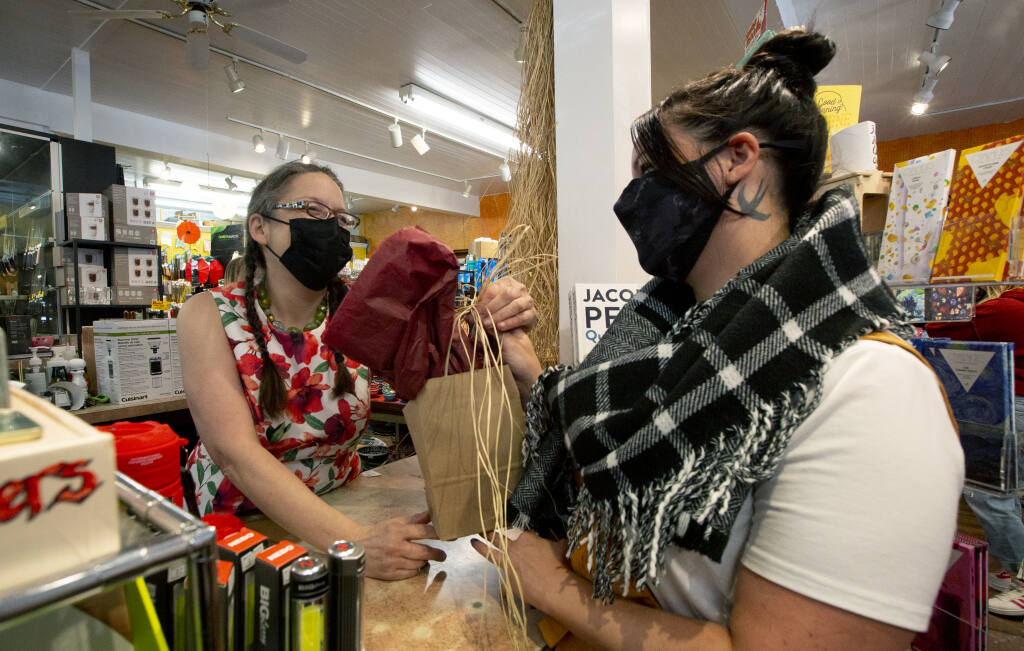 Holidays and friendly tourists are back
Here we go into December, with lots going on between Thanksgiving, Chanukah, and Christmas.
Sonoma was packed last weekend, with loads of tourists, tasters, and shoppers seeming to have a good time as they strolled in several directions across streets around Sonoma Plaza. Hopefully, they bought lots from our local and independent merchants recovering from pandemic closures or economic slumps.
Readers' Books turns 30
Many visitors and locals found their way into Readers' Books 30th-anniversary party on Saturday. Unfortunately, we missed it because I didn't read the Readers' newsletter until Sunday, which might teach us a lesson (i.e., read the newsletter!).
Those of us who missed the birthday party of our revered community bookstore founded by Andy and Lilla Weinberger in 1991 across East Napa Street, also missed a one-day-only 30% discount on everything in the store in addition to bubbly and a fabulous yellow cake with chocolate frosting (the late Lilla's favorite) made by bookstore friend Kate Cherry. For many years Cherry made chocolates at Betty Kelly's Wine Country Chocolates and happens to be married to Ross Cannard of Cannard Family Farm. Readers' Books: 130 E. Napa St., Sonoma. 939-1779.
"Lots of people came for cake — it was lovely to see the store jumping again as this time last year we were limited to five customers inside at once. So nice to see people browsing and taking the time to pick and choose their books, and of course you know we love to recommend our favorites--and it's so much easier to do in person," commented Jude Sales, manager of Readers' Books.
Cannard Family Farm update
Bob (Bobby) Cannard and family, including son Ross Cannard, have long been among the storied providers of organic vegetables to Alice Waters and Chez Panisse. And not coincidentally, both Ross and his brother Marcus worked at Readers' Books. And their mother is Ditty Vella of the cheese family.
Ross Cannard and family are back in the produce box businesses. This week's box contained radicchio, chard, onions, leeks, persimmons, Kabocha squash, fennel and broccoli, a sample of what subscribers or first-timers to the Cannard Family Farm boxes might receive.
In his newsletter, Ross Cannard emailed, "Nothing like a slightly bitter radicchio salad to cut through the fog of post-Thanksgiving overindulgence. In fact, I remember suggesting a week or two ago that you make a radicchio salad with anchovy dressing. I guess I'm doing it right, because Samin Nosrat (internationally famous cookbook author and TV star) just ran the same recipe in the New York Times. Though hers is slightly fancier and more complicated, as befits the Times." To sign up for their newsletter to get each week's box content information and subscribe to their CSA program, email Ross Cannard at ross@vom.com.
No community breakfast this Sunday
The first Sunday of the month is (almost) always time for the Community Breakfast put on by Valley of the Moon Knights of Columbus on St. Francisco Solano School's playground or inside at Father Robert's Hall. But not this Sunday. As Aunt Momo puts it, "Next weekend the Knights are taking me out to dinner as a thank you, so the next breakfast is Dec. 12."