Elaine Bell turns 40, new chef at Reel & Brand, Sunday Suppers
Pomme Cider Shop is working on opening where many Sonomans used to frequent Top That Yogurt at 531 Broadway.
Owners Rick Tranchina and Jessica Olson-Ealy are waiting for their beer and wine license to be approved by the Department of Alcoholic Beverage Control (ABC) and then their subsequent posting of their application since the business will basically be a hard cider tasting bar and retail cider and food establishment.
Watch for ciders from Sonoma County as well as from France and Spain and other French sparkling wines (maybe even real Champagne) and rosé wines, some sandwiches and charcuterie.
It still baffles me that they will be able to seat customers, as is Bump Cellars, but in between the two storefronts, chefs Sarah Pinkin and Elizabeth Payne were not allowed to let people sit down in their Frenchie deli and import shop. Our kids used to love the sandwiches made by the last owners of Shone's in that location and sitting at picnic tables to consume them. Different rules for different folks?
By the way, "pomme" means apple in French, whereas "pomme de terre" means potato. I guess potato cider would be vodka.
Pomme hopes to open in January. 531 Broadway, Sonoma.
Fun updates to Pets Lifeline benefit
In addition to some luscious pre-dinner appetizers, Pets Lifeline has added some sparkles to their Miracle on 8th Street fundraising dinner by girl & the fig caters on Friday, Dec. 10, guaranteed to make you wake up and giggle.
The three ladies in LED costumes that lit up the Plaza Lighting last Saturday will be there, as well as a Partridge in a Pear Tree and a "walking very elegant and beautiful Christmas tree," according to Mary Catherine Cutcliffe, well known for behind the scenes event organizing.
And if you have ever been to Sonoma Community Center's Trashion Fashion Show, or even if you haven't, you can safely expect some super costumes on local characters, all designed by the talented Margaret Hatcher.
Are you missing Cornerstone's snowmen and all the fun Sonomans had at their lighting? To the rescue comes Dave Allen of Artefact Design & Salvage who will bring some of the snowmen to Pets Lifeline's garden for the event.
Fun raffle prizes will include a week in Cabo San Lucas, two Soiree Film Festival passes, a wine-paired dinner for 10 at Kivelstadt Cellars, and 14 magnums of wine donated by members of the Pets Lifeline board of directors. If you can't attend the dinner, you don't need to be present to win as there will be a live broadcast. Dinner $275. More info and tickets at petslifeline.org.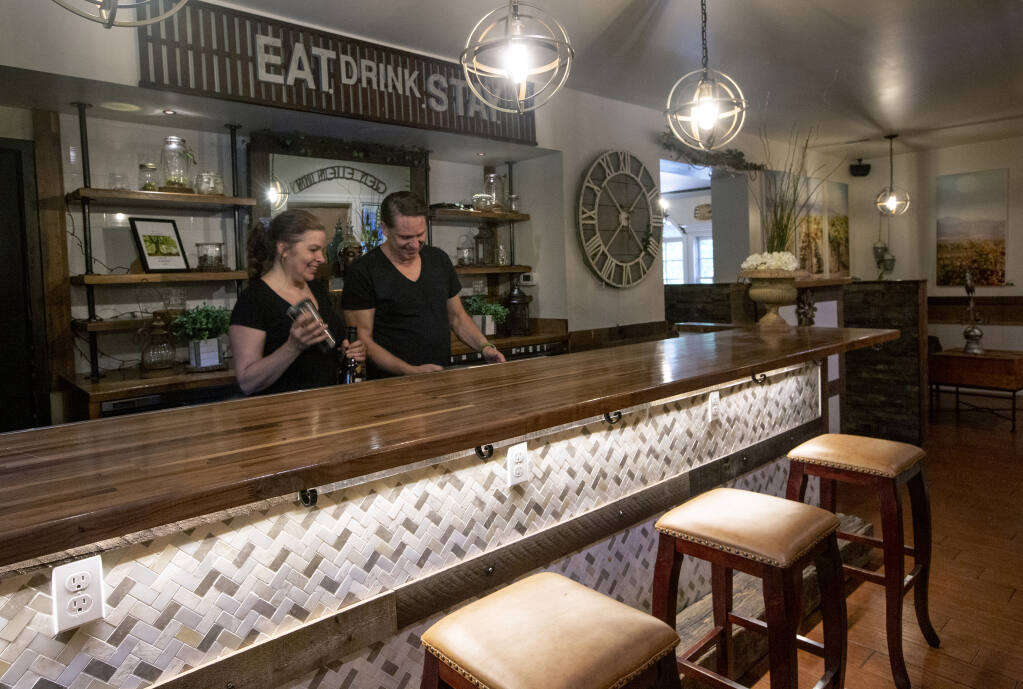 Glen Ellen Inn hopes to reopen bar soon
Chris and Karen Bertrand of the Glen Ellen Inn plan to reopen their cozy bar soon and welcome back their martini fans among others.
The Bertrands closed the bar and restaurant during COVID-19's intensity and focused on their hidden cottages behind the restaurant.
The delay is the usual: waiting for permits from the County of Sonoma, having filed their permit applications in 2020. Remember that they served at their bar for years before COVID closed them down. So what could be the problem?
Karen Bertrand tells me "We are waiting patiently for the county to complete their evaluation so we can get going. We're really hoping they let us get to work soon. We really miss our locals. I even have the bar menu ready and can't wait to pour some cocktails."
Glen Ellen Inn will join Jack London Lodge and The Mill with full liquor licenses in Glen Ellen, the latter of which has not opened a bar for lack of staff. If you are an experienced bartender, contact Dana or Sanjeev at The Mill at Glen Ellen.
Reel & Brand news update
Not only has managing partner Keven Kress brought back Reel & Brand's clam chowder and chili bread bowls along with prime rib, he has a new executive chef who is creating a new menu and perking it up a bit.
Meet Aurora Bojorquez, native of Zapotillo, Sinaloa, Mexico.
Like many of the best cooks in Sonoma Valley kitchens, Aurora credits her mother and grandmothers in Mexico for passing on their skills, principles, traditions of working with natural foods, and "the strong character of my dad, including honesty and optimism and seasoned above all with a big heart," she told the Index-Tribune.