Anyone want a yogurt shop? Vineyards in drought, BottleRock bites, Kylo the kitten
Top That Frozen Yogurt closed for good last week, ending a local favorite founded by the Solis family in 2009.
Loads of sorrowful comments followed the initial posting from many people who went in after school started, before school resumed, or on special occasions for a treat we thought wasn't really so bad for us, and many other rationalizations.
Our grandkids grew up thinking Top That Yogurt was ice cream, our daughter having managed to have convinced them of that due to one child's food allergies. She could always find combinations she could enjoy and be safe with.
My favorite was anything with chocolate, low sugar, and supposedly little or nothing bad for you topped with their warm chocolate that hardened when it hit the frozen yogurt, kind of like we used to have at Foster's Freeze here.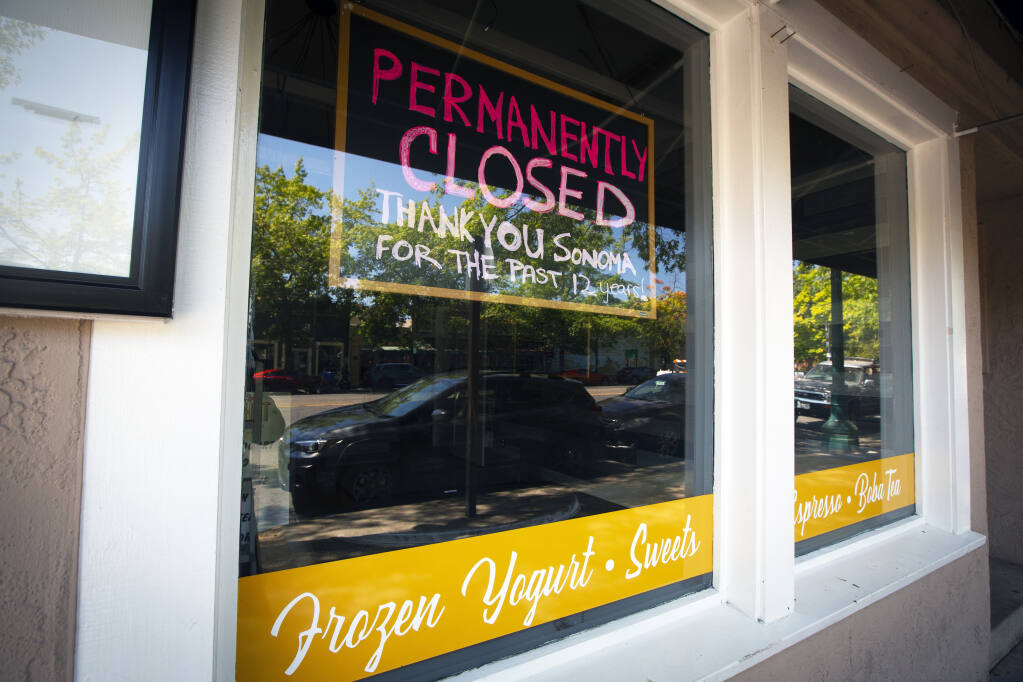 And all those fresh or frozen berries, peaches and even candy sprinkles, but it seemed to change a little when they redecorated and took down the '50s Elvis-era photos. And their Boba tea was good too.
Earlier in August the Solis family posted several times that they were hiring, and just couldn't find anyone to work. Certainly it was tough to compete with three local ice cream shops, along with not being able to find staff. While it's easy to say that service workers are receiving too much government money or are lazy, it's also possible that they don't want jobs where they can easily get exposed to COVID viruses.
To one person's inquiry of whether the owners would be willing to sell the business, Top That Yogurt responded that might be possible. The Solis family are smart people and own other businesses, so someone go for this one.
Please someone. Please!
Ovaries in your fruit bowl?
Learn from Oak Hill Farm in Glen Ellen that "botanically speaking, fruits are the mature ovaries of the plant and contain the seeds of the next generation. Cleverly, many fruits have evolved to spread those seeds by containing them in a sweet delicious outer package."
Oak Hill Farm offers a variety of sweet and delicious ovaries for us to enjoy such as Bartlett, d'Anjou, comice and seckel pears; charentais, water and orange honeydew melons; kadota, mission and tiger panache figs; and el star and jonagold apples.
Tomatoes are also technically considered fruits and ripen on the vines.
Farmers Jimi Good and Melissa Bucklin will lead a farm tour this Saturday, Sept. 4. They will show off their new tractor-mounted potato digger and guests will be able to harvest some of the bounty.
Meet at the Red Barn at 10 a.m. this Saturday. Wear closed-toed shoes. Kids are always welcome. No dogs allowed. 15101 Sonoma Highway, Glen Ellen.
The importance of food and social history
Last week Renea and Damien Magnani went to the Swiss Hotel for a date-night dinner, during which they ran into Pam Hellen and family, out for Pam's birthday dinner.
Magnani added, "We also saw Denise Mulas and Mike with friends. Then Lisa Mertens and Mike. As we drove home we spoke about living in the small town and being inspired by so many who have been together for so long. Our anniversary is Sept. 11 and I'm grateful for those who remind us to spend time together, enjoy, and celebrate us. I continue to remind myself that 'it's not always easy but it's always worth it.'"
Then Magnani remembered some longtime friends who attended their wedding, some of whom are no longer with us but are important to remember as part of Sonoma's social and food-related foundation, including "Darla Brocco Kobza and Duane, Georgi Koepp and Bruce, Barbara Nuss and Bob, Joan Riebli and Arn, A.J. Riebli and Anne Appleman, Dave and April Church, Jacqui Beiden and Ron Beiden, Diane Merlo and Rich, and Lillian Brunton and Ray.
"Here is to love and small towns," Magnani reminds us all.
Catching up with the drought
While a few weeks ago, Ned Hill, whose La Prenda Vineyards Management handles more than 30 vineyards, said so far no vineyards' wells were lacking water and that Sonoma Valley agriculture doesn't draw from the Russian River. He now reports that some wells on the east side of Sonoma Valley are starting to run dry.
Hill also says that the harvest is a bit weird this year because due to lack of heat, of all things, resulting in some grapes ready early and others late.