Winter wonderland: A dazzling holiday display in Sonoma
Dillon Stall has created a dazzling holiday wonderland where kids can wander under candy cane arches and find their favorite characters all aglow in thousands of sparkling lights.
Olaf from "Frozen" painted on plywood, an inflatable Frosty the Snowman, a 12-foot Bumble and an even taller Grinch line the pathways, waiting to be pointed out by little voices. "Oh look, it's Winnie the Pooh," and "There's Santa!"
Driving around looking at holiday lights is a December tradition for many families but "Dillon Land, the Jolliest Place on Earth" takes it to the next level – get out of the car, don a mask, keep social distance and let the kids roam around. Jolly, indeed, especially in these isolated times.
"I wanted it to be really special for the kids because it's been such a hard year," Stall said. It is the second year he's put up the décor on Grove Street and 2020 is much more elaborate than the debut.
Stall, 28, is a fourth generation Sonoma native and "Dillon Land" is on his grandfather Paul Koeller's property. Dillon paid tribute to his Papa, 88, with an eight-car train made of wine barrels, the engine emblazoned with the words, Koeller Express.
"He's my biggest supporter. He thinks this whole event is the coolest thing ever."
Dillon's parents, Gary and Karen Stall, are also very involved in what is a true family project. Karen painted almost all of the plywood characters and Gary sawed them into shape. "You don't see your kids as much once they're adults and it's so much fun for us to work with him on this," Gary said. They still live in the Springs home where Dillon and his sister Kaylin were raised.
Karen grew up on the "Dillon Land" property and her grandmother, Thelma Pellandini, was born in a house across the street in 1913, so the holiday display is on land with deep Sonoma roots. Right near the entryway is a Star Wars display on an old tractor that has been on the property for as long as any of them remembers.
The display opened Thanksgiving weekend and will be open every night until New Year's unless it's raining. It took seven weeks of nights and weekends to install. This year Stall's longtime girlfriend, Olivia Tsegeletos, painted the characters for the "A Nightmare Before Christmas" scene.
All of Stall's childhood favorites are represented, including Woody and Buzz Lightyear of "Toy Story" and Tow Mater from "Cars." Also in the mix are painted plywood likenesses of Shrek, Bugs Bunny and Porky Pig, Charlie Brown and Snoopy, Alvin and the Chipmunks and Fred and Wilma Flintstone.
Disneyland is Stall's favorite place and this is the first time in five years that he has not owned an annual pass. So of course he included Mickey, Minnie, Goofy and Pluto.
"I never stop looking for Christmas stuff, it goes on all year long," he said about accumulating all the lights, figures and nine decorated trees. "I buy as much as I can in the off season when it's less expensive." He has made a significant financial investment, but visiting the display is free.
He credits his love of all things Christmas to his parents always giving him a wonderful seasonal experience when he was growing up. "My Dad would even get on the roof and stomp so I could hear Santa coming."
He started out in 2014, decorating the exterior of his sister's home. He intends to continue creating holiday magic for the rest of his life.
"When he was about 9 or 10 he started saying he was going to have the biggest, brightest Christmas display ever and he never let go of that idea," his mother said. Stall attended Flowery Elementary, Altimira Middle School and Sonoma Valley High School, where he played football. The 49ers are also a favorite and a huge lighted Niners helmet is included in the show.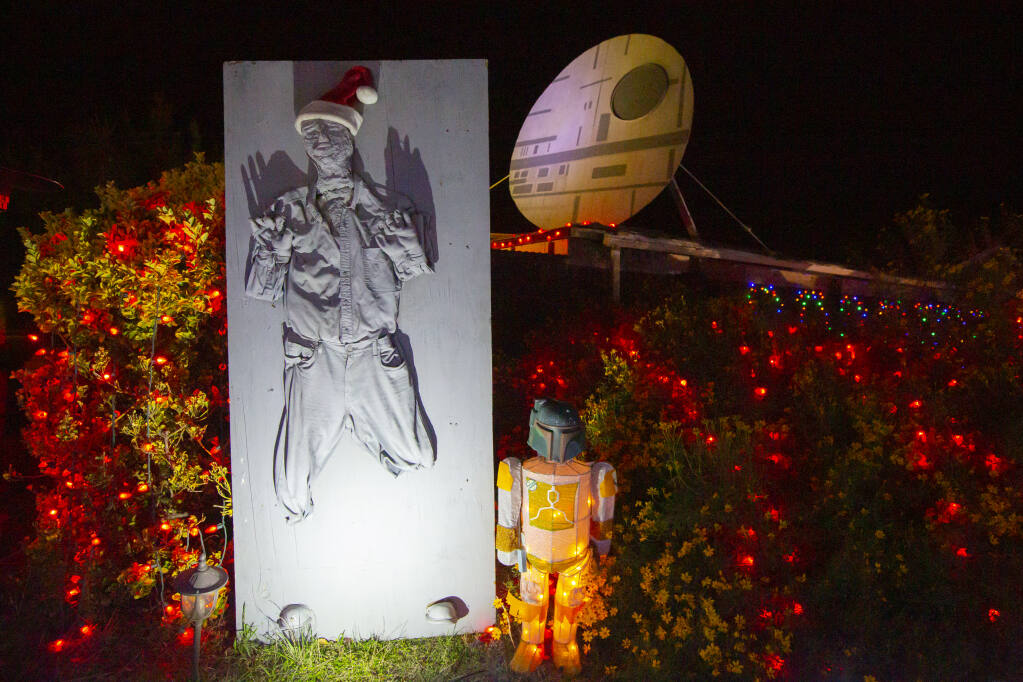 The hardest thing to put up is the 30-foot-high tree made of pipe that is strung with lights. "The lights are blue because they are the easiest to spot. I wanted people to see where we are as they soon as they turn of Arnold onto Grove Street."
It's a turn that will bring joy to children, tiring them out so they can go home and have sweet dreams.