Sonoma's secret history of dude ranches
Sonoma County is well known for wine, apples and plums, dairy and tourism – but not for dude ranches, at least not today. But according to local historian Lynn Downey, Sonoma County had its dude ranches, too, when the phenomenon swept the country in the 1920s and 30s.
"Dude ranching began in the 1880s, but there was a big surge in World War I because nobody could travel to Europe," said Downey, an ebullient writer with deep Sonoma connections. "It really was a wealthy persons' vacation at the beginning – Wyoming, Montana, and by the 20s, Arizona and New Mexico – and California."
Dude ranches are still found, but their popularity has waned. On the other hand, in Sonoma we have glamping – glamorous camping – and something called "agricultural farmstays," permitting "a program of agricultural promotion and guest education regarding the agricultural activities onsite and in the area, which may include active participation in the on-site agricultural," according to Permit Sonoma zoning standards.
Substitute cattle ranching for agriculture, and you've got a dude ranch, says Downey. "The same kind of thing happens on a dude ranch. You can help the farmer plant or cultivate produce if you want in an ag/stay, just like you can help the wranglers with the livestock on a dude ranch."
Downey is well positioned to write about dude ranches, and not just because writing about history is what she does. Growing up in Marin County, she said, "I had two cousins that were on the rodeo circuit so I grew up in this cowboy milieu – but I didn't get the 'horse gene,' so I never learned to ride. What I became was a western historian instead."
Maybe she didn't get the horse gene, but she got the jeans – she slipped into a 25-year job as "house historian" with San Francisco-based Levi Strauss & Co., and just try to picture a cowboy without jeans. Which Downey usually wears, along with boots, western shirts with decorative piping and turquoise jewelry.
For the company museum, she tracked down a hard rock miner in Wickenberg, Arizona, who purchased a pair of jeans in 1917 but returned them to the company three years later with a complaint letter. The miner was long gone, of course, but she found his gravestone, on a 120-degree July day in Arizona. "It was one of the best experiences of my career, almost dying of heat stroke in an abandoned cemetery. It was awesome."
It was the first of many trips to Wickenberg, and she later wrote a book about it, one of those photo-centric books from Arcadia Publishing. Wickenberg is in Maricopa County, about 50 miles northwest of Phoenix; it began as a mining town in 1863, then became the dude ranch capital of the world in the 1930s. Today you can find the Desert Caballeros Western Museum there, one of Downey's favorites.
A lot of movies came out in the 30s with dude-ranch themes or settings, often played for laughs. Abbott & Costello, Jack Benny and Donald Duck did their time on dude ranches, as did John Wayne, Randolph Scott and Gene Autry, of course, and the posse of singing cowboys that followed him.
More recently there was "City Slickers," a 1991 comedy with Billy Crystal and Jack Palance.
Downey admits to being a bit of a collector. "I've been collecting dude ranch artifacts for 15 years. My house looks like the Buffalo Bill museum," she says of her current spread, off Verano Avenue in north Sonoma.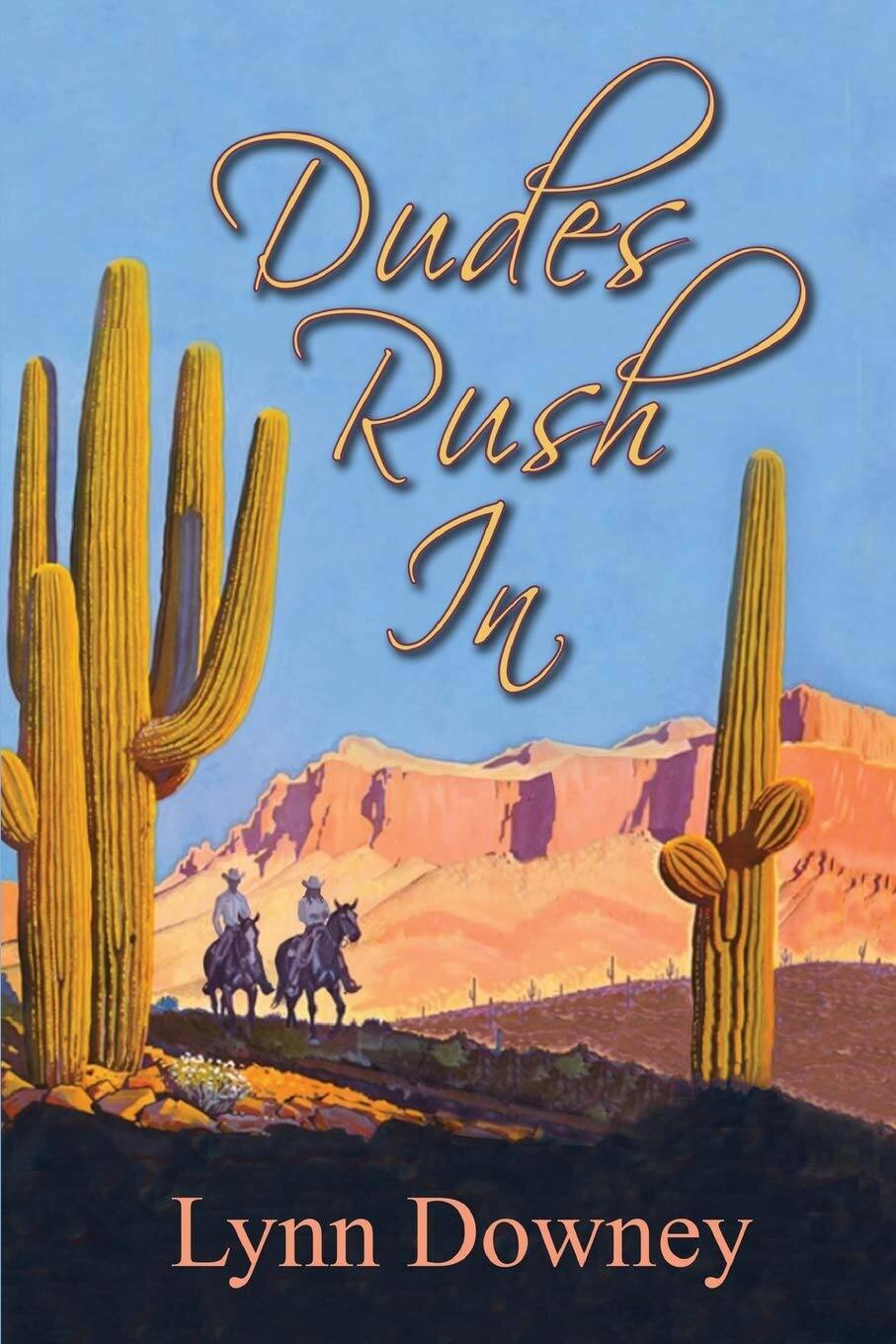 Her own single dude ranch experience was in Wickenberg, which led to the plot of her recently published first novel – "Dudes Rush In." She's planning a sequel, "Dude or Die," but probably won't give up her career as a historian: she's having too much fun.
While the life of a historian is not usually thought of as enviable, or exciting, it clearly depends on the historian. Downey is vivacious, voluble and well-informed, and she'll bring those characteristics to the Second Saturday lecture for the Sonoma Valley Historical Society on April 10.
What surprises about Sonomoa Valley's dude ranches await the person who registers (at info@sonomavalleyhistoricalsociety.org) for the 2 p.m. session? "I'm not going to give away the store, but let's just say the story involves a famous writer and a big fraud."
And it's not the same person.