Sonoma's late-blooming songbird
Living in a lockdown can make a person take stock of what's important and what needs to be done. Many have noted what needs to be done, straighten out the linen closet, for example, and done nothing about it. But Leah Jones, a singer-songwriter living in the Springs since 2005, embraced the dire situation we have all been enduring and got busy.
Jones is a sales professional by day and a self-motivated musician by night. She has just released a new album of original songs called "Elements of Water." Described as "one woman's journey through heartbreak, loss, discovery and optimism," the album is a charming and frank look into the soul of a woman emerging.
Like many people, music was a vital part of her childhood. Jones, who considers herself to be primarily a vocalist, said "I routinely sang my younger sister to sleep when we were 6 and 8 years old."
Influenced by the popular songs of the day, she picked up America's favorite instrument a bit later than most guitarists. Jones, who was reached by phone outside of her Springs bungalow, said, "I have been playing guitar since the '90s… but it was only to back my vocals. I always considered my vocals to be my true instrument. I started to play just to back myself up."
Jones has quietly developed into a unique and strong singer and a comfortable performer. But it took her a while.
She had been performing at the various open mics that were thriving around town prior to the pandemic. Mondays at Murphy's Irish Pub, Wednesdays at HopMonk, and Thursdays at the Moose Lodge, they all afforded her precious time on stage to learn about that special live vibe.
Quite serious about attending to her muse, in the summer of 2019 Jones attended Guitar Workshop Plus, a week-long music bootcamp held at Middle Tennessee University. There, she was one of 60 guitar-playing songwriters working on their chops. The camaraderie there helped her focus on the task that laid ahead, a solo album.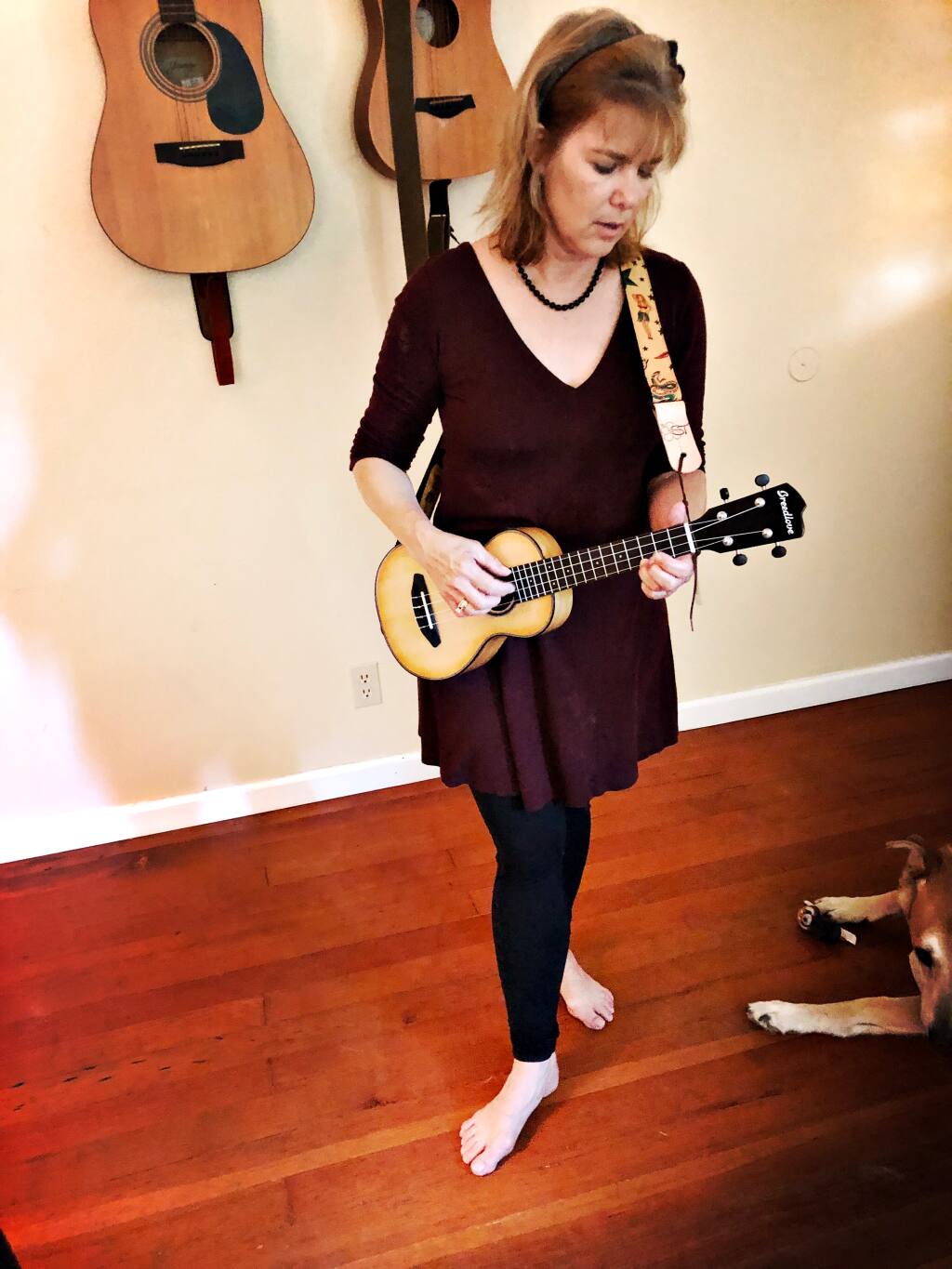 "Elements of Water" is a self-financed effort that held her captive for 16 months. The last six months were the most intense. The record was made solo style, one COVID safe musician at a time. Backing tracks and overdubs were all handled in layers afterward.
Jones was enthusiastic when talking about her effort. She said, "It's my first album, a debut album. There are 10 of my songs on the album. I recorded it with Gawain Mathews in San Pablo, California. They were all recorded there."
Jones plays her acoustic guitar on her songs. She also added a little ukulele to one. There are many others who also played on the album, including local musicians Mark Constanza playing saxophone on two songs and Michael Fecskes lending his cello playing. Jones's lifelong musical partner Drew Pearce assisted, and producer Mathews played an ensemble's worth of instruments rounding out the album's sound.
Inspiration for the songs came in many temporal forms. Jones added, "We've had 9/11, we've had COVID. This album had momentum because of disasters, the things that have happened the last few years. Fires. The song 'Darkness' is about the fires we've experienced in this area. It's my answer to having 14 days of no power and being evacuated, basically."
Though she has been writing songs for years, the oldest song on this album is less than three years old. Jones described the opening cut, the oldest song. "It all started with the death of my friend, Capt. Robert McCreary. I wrote the song 'Under Sail' about him. He was a really good friend. We spent more time on the water than on land together." It is a lovely and haunting song, dedicated to a lost sailor.
Of the last song on the album, one of the "heartbreak" songs, Jones said "Apology Not Accepted" should have been a live recording, "but with COVID, we were unable to pull that off. People like to sing along with it, especially at the chorus, the 'disrespecting, nagging hag' part, they get something out of that. It's pretty funny."
Another difficult heartbreak Jones endured was the passing of her favorite companion Rudolph Valentino Jones, her trusty German shepherd. The song "Sentimental" was written about him. "I have only known Sonoma with him in the house. My house, at first, didn't even feel like the same place not having him there."
Jones has longed to sing backup for Nashville favorite Allison Krauss. Sheryl Crow and Tracy Chapman are two more artists Jones admires. "I have a pretty eclectic tastes. I kind of am all over the map."
She went into detail about another singer she appreciates. "I have a lot of respect for Stevie Nicks. People have told me I remind them of her." Their performance styles are even similar, Jones indicated. "I am pretty free with my presentation on stage, and I have always loved her," Jones said.
"I always paid attention to what she and Lindsey Buckingham were doing. If I could align myself with anybody, it would be Fleetwood Mac in terms of turning music into something that's relatable so people can get something out of it," Jones said.
Exuberant and looking youthful, she admits to having "been around the block a few times." What took Jones so long to get out there and sing? "I've got a big day job. No wonder it took me all these years to put an album together, right?" Jones added, "Here I am producing my first album. I didn't know that I had the confidence until I started playing out in Sonoma. The town has been so generous to me, letting me get up on all the different stages. I was super green. I am very grateful."
Fans of Jones can download "Elements of Water" on Spotify. It is also on YouTube and iTunes and can be sampled at leahjjones.com. The album's formal CD release is awaiting the necessary artwork, but is set for springtime.
When you head back out into the real world, like a groggy bear out of the den, look for Leah Jones on a stage near you. Her wise yet youthful style will ease you back to reality, and it will all be OK.