Palooza, first providers of food, music
We hear a lot these days about first responders, and the brave and much appreciated work they do to preserve our communities. The folks at Palooza Brewery and Gastropub in Kenwood have assumed the role of first providers - pizza, beer, music - all forms of social therapy needed to preserve, and perhaps define, our communities.
Suzette and Jeff Tyler have been feeding the locals at their restaurant for several years, usually slipping a bill in front of one of the adults at the table. Recently, however, the Tylers have taken to providing lots and lots of food, free food, to the hungry first responders working the fires that have been touching our lives.
According to Suzette, the most recent fires resulted in them "serving roughly 800 meals," to those working on the fire lines. She added, "and countless gallons of beer consumed by the locals," who were not working at all but just seeking comfort and the reassurance of community.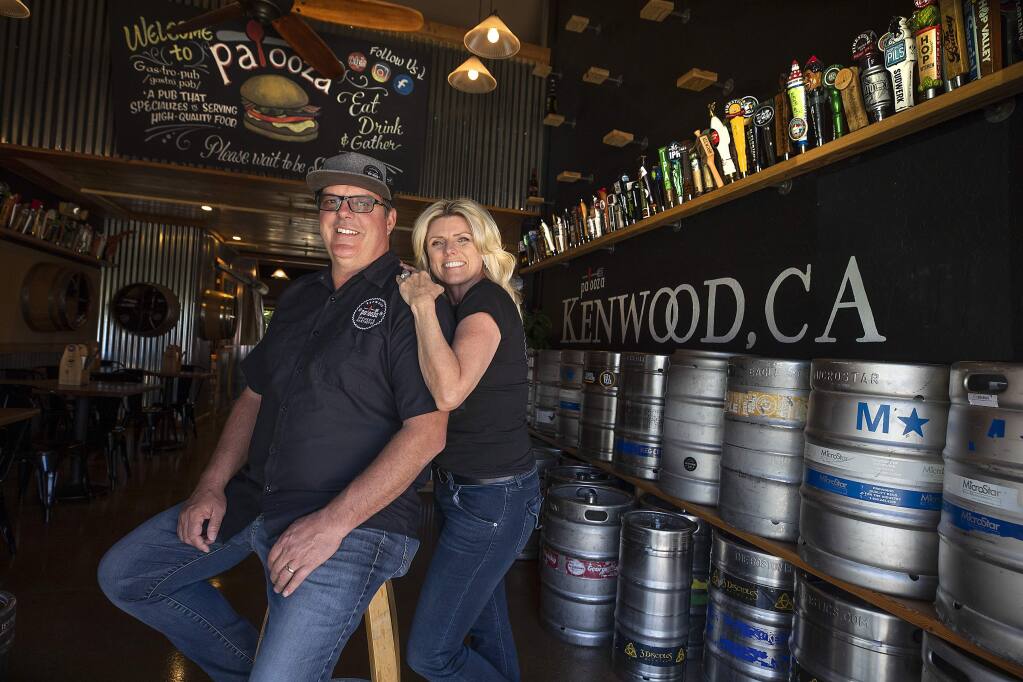 Palooza has become a focal point in the Kenwood Community. Very visible right on the highway, they have a nice outdoor area with portable heaters, lots of COVID safe seating and live music four times a week.
Megan Schoenbohm and Rick Hardin have been splitting the duties playing music for the crowd. Schoenbohm is particularly suited for the "music as social therapy" role, as she earned a degree in music therapy from Berklee College of Music in Boston.
Raised in Ohio and reared as a drummer, she moved to Boston to pursue musical perfection. She played in symphonies and orchestras, that fancy classical stuff. After discovering the guitar and focusing on the therapeutic benefits of music, she graduated and moved to California. "I had had enough of the East Coast," she proclaimed.
Schoenbohm then began to focus on special needs children. She also began to write songs for families to enjoy, "indy style for families," is how she puts it. She has stayed busy during these slow times streaming her unique brand of musical comfort, sometimes seven days a week.
At Palooza, Schoenbohm climbs a ladder and sets up her acoustic guitar and PA system on the back of a 1946 Studebaker flatbed. From there, under an umbrella, she has a commanding view of all the patrons and can easily access the vibe of the crowd. "Even up there on the truck, I will always have somebody requesting me to play something. Sometimes Pink Floyd, Lisa Loeb, Alanis Morrisette…I do my best to make it happen," Schoenbohm says. "I am a '90s kid, heavily inspired by '90s music. But I like to play a variety of things. But the folks at Palooza keep me on my toes."
Schoenbohm plays Friday and Saturday evenings at 5 p.m. Her counterpart Rick Hardin plays Sundays at noon. The pair alternate for the Thursday gigs. Palooza is at 8910 Highway 12. The restaurant is family focused, kids friendly and dog welcoming.