Strictly Business: Sheep meditation, hospital CFO honored, RCU best in nation
Hospital finance chief honored
Sonoma Valley Hospital Chief Financial Officer Ken Jensen is one of six North Bay finance professionals recognized this year by the North Bay Business Journal for stewarding their organizations' finances.
The Business Journal selected the honorees for their eighth annual CFO Awards based on executives who have demonstrated outstanding performance, noting that those recognized have gone above and beyond their regular duties within their industries and community.
Jensen was nominated by Sonoma Valley Health Care District board members Joshua Rymer and Bill Boerum who said Jensen "has been instrumental in ensuring the hospital's financial sustainability during turbulent times in healthcare."
The Business Journal honored Jensen and five others at a virtual event on Aug. 25.
Forbes names RCU one of 'America's Best'
For the second year in a row, Redwood Credit Union (RCU) has been recognized as a top credit union in California in Forbes' list of America's Best Credit Unions in Each State.
Forbes and Statista, who conducted the research, based these rankings on an independent survey of approximately 25,000 U.S. consumers who were asked about their banking relationships as well as their satisfaction in the categories of trust, digital services, financial advice, branch services, and transparency of terms and conditions.
"Our members are at the heart of all we do. Receiving this recognition from Forbes, based on member feedback, affirms that we're providing the financial services people want and need," said Brett Martinez, RCU president and CEO. "This award is a testament to our passionate employees who work extremely hard to provide excellent service to our members every day."
This past year has proven to be a successful one for RCU, as they were also voted Best Company to Do Business With in Sonoma County for the ninth time, as well as Best Credit Union by readers of several publications in Sonoma, Marin and Napa counties. Redwood Credit Union RCU also been awarded one of the best places to work in the North Bay for 15 consecutive years.
New NBCU Sonoma branch manager
Vanessa Balderrama has been hired as North Bay Credit Union's Sonoma branch manager.
Balderrama will oversee all day-to-day branch activities and participate in community events for the credit union.
Balderrama said she appreciate that North Bay Credit Union is well respected in the community.
"In my short time here, I've heard from so many members about the difference we've made in their lives," Balderrama said in a press release about her hiring.
In her spare time, she also volunteers at her kids' school events and in John's March Against Stomach Cancer and the Relay for Life in Sonoma County. Visit NorthBayCU.com for more.
Rabuck blossoms at botanical garden
Sonoma Botanical Gardens announced this week that Kate Rabuck has been promoted to director of visitor experience, a new position designed to make the garden "relevant, accessible and engaging for all guests," according to a press announcement. Rabuck joined the garden's team in October of 2020 as the curator of education and exhibitions.
"We are thrilled to welcome Kate Rabuck to an expanded leadership role at the garden," said SBG Executive Director Scot Medbury in the announcement. "Her deep commitment to public gardens is palpable, and in this new position she will have the opportunity to substantially integrate and strengthen visitor engagement here."
Rabuck has a masters in free choice learning science education from Oregon State University.
"The garden is full of potential," said Rabuck. "From its team of passionate individuals to the beautiful and unique living collections, the garden has a wonderful foundation for greater impact."
Visit sonomabg.org for more.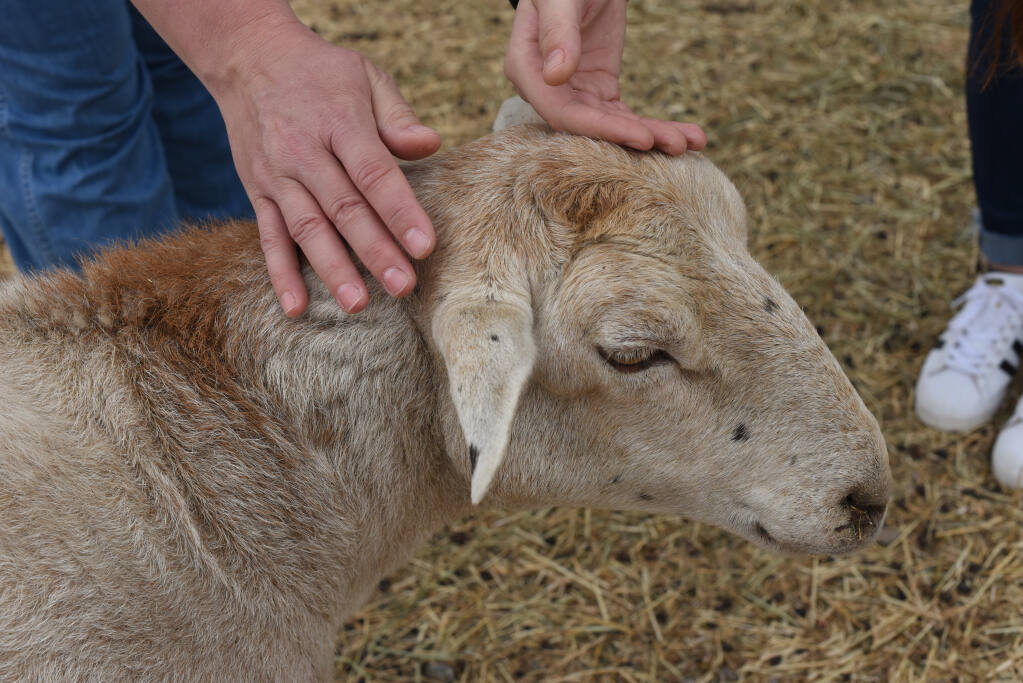 Sheep meditation
You've heard of "counting sheep" to clear your mind in preparation for sleep. Well, how about taking it one step further and actually meditating with the wooly critters? Paradigm Shift yoga instructors Bob and Amelia will be at the farm rescue sanctuary Charlie's Acres on Sept. 19 at 11 a.m. for a "delightful meditation in the sheep meadow."
"Join us, along with Roger, Lucy and the other sheep, for a relaxing and regenerating sound bowl meditation," said Bob and Amelia in a press announcement. "This amazing sanctuary provides a unique and nurturing space."
They'll provide yoga mats. Attendees should bring comfortable clothes and a water bottle. The event cost $60 is for ages 14 and over. Charlie's Acres is at 3201 Napa Road. Visit charliesacres.org to sign up.
Charlie's Acres also offers Goat Yoga on Sept. 12 and 25.
Girl & Fig anniversary
The Girl & the Fig restaurant celebrated its anniversary last month, marking 24 years since it first opened its doors in Glen Ellen.
"We'd like to take this time to thank all of our amazing staff over the years, local diners and our out-of-town guests. Without you, none of this would have been possible," the restaurant posted on Instagram. The restaurant is now located at 110 W. Spain St.